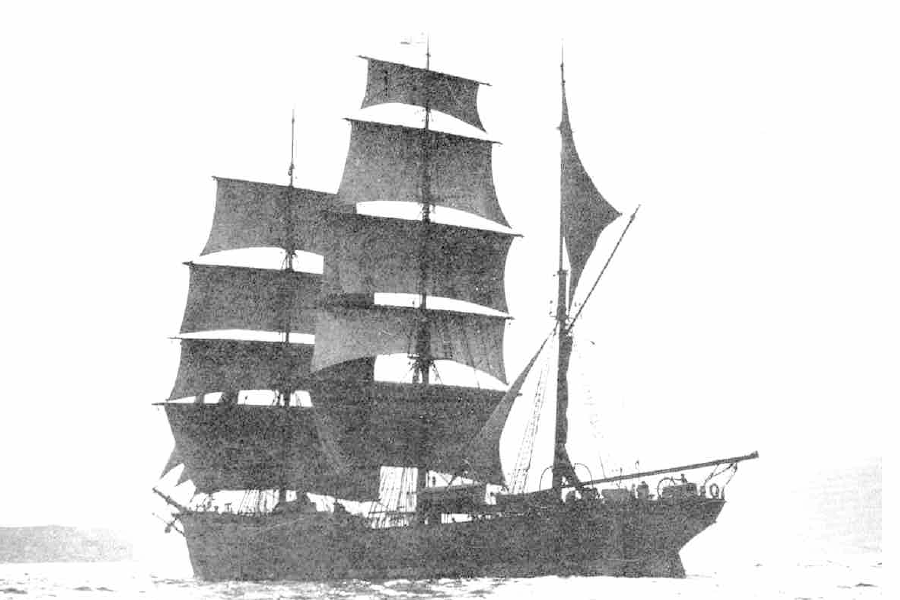 In early September 1891, a large vessel, the 2,044-ton Balmoral registered in Liverpool, was wrecked on the rocks close to Johnshaven, a few miles north of Montrose.
Bound for Dundee from Chittagong, with a cargo of 15,800 bales of jute, she had been at sea for close on 170 days (six months) by which time she posted as overdue. In command was Captain Goldsmith who reported he had come north about through the Pentland Firth and had experienced some heavy weather while entering the northern North Sea.
Due to thick fog, he had estimated his position to be near the mouth of the Tay estuary. Depths taken by lead line firstly registered 30 fathoms, the next at 29 fathoms, while the third showed the rapidly shallowing of water to 16 fathoms beneath the keel of the Balmoral. Trying to turn her head round to reach deeper water was not quite quick enough. This was about three o'clock in the morning in thick fog and about two hours before high water. The vessel settled on jagged rocks near Tangle Creek. Fortunately, the weather was calm, and the crew did not leave the ship making an attempt to get her off.
Intelligence of the casualty was quickly transferred to Montrose and two tugs and two trawlers were despatched promptly northwards. Two larger vessels, the Mary and Kate Howard, were also alerted and left port to render assistance.
All attempts to get her off were to no avail, so tightly wedged was she in between the rocks. By forenoon, there was ten feet of water in her holds while her deck was beginning to rise up. As she was breaking up fast, it was decided to have her dismantled and her cargo removed.
A number of fishing boats were also engaged as well as 50 men from Johnshaven and Gourdon in order to lighten the cargo from the stricken Balmoral. Work was also expedited under the direction of James Warrack & Co. Dock Buildings, Montrose, who were authorised by the owners and insurers to look after their interests. Steam lighters were also telegraphed for from Aberdeen and Dundee to assist in refloating the stranded sailing ship.
In attendance at the scene were Mr. Wallace, Superintendent of Customs, Bailie Alexander, James Warrack & Co., Lloyd's Agent as well as Mr. R. Ritchie, D. Bruce & Co. and Dundee port agents to ensure all necessary arrangements were being undertaken. The crew of 32 all told left the ship for the south in the evening of the stranding, with 21 of their number being accommodated in the Seaman's Home in Dock Street, Dundee.
Built in Liverpool in 1887, she was therefore a relatively new ship and owned by the Iron Sailing Ship "Balmoral" Company of the same port. The loss of much of her cargo caused the cost of jute to rise over the following two weeks on the local jute market by 10s. per ton. Ship and cargo were reported to be valued at upwards of £75,000.