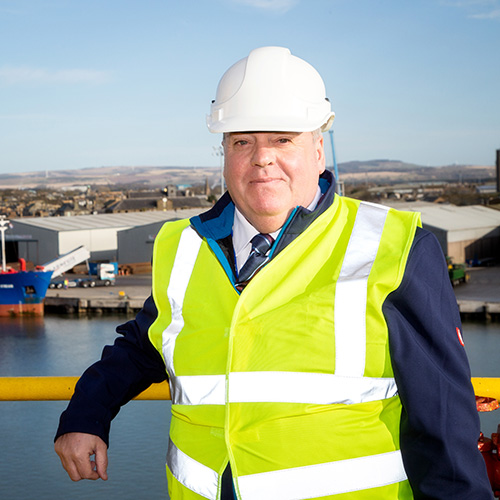 Montrose Port Authority has recently appointed Graeme Nimmo, former Ship's Agency Manager for Seletar Shipping Ltd as it's new Chief Operating Officer supporting Tom Hutchison, Chief Executive Officer.
Born in Glasgow, Graeme is no stranger to Montrose Port Authority having sat on the board since 2016, he is also a fully qualified chartered shipbroker with over 35 years' experience in the shipping industry. Previously employed by ASCO Group subsidiary- Seletar Shipping Ltd he was responsible for Seletar's office network providing port coverage in the UKEC central and southern regions. In addition, Graeme is a lead examiner for one of the Institute of Chartered Shipbrokers compulsory subjects and, since 1991, has tutored its Shipping Business course to students globally.
Graeme's wealth of experience means he is well suited to take on the senior role at Montrose Port Authority overseeing the daily operations across the 59 acre site, which includes the arrival of over 600 vessels each year, the transfer of goods across the quayside and management of leaseholders onshore.
Montrose Port has an established reputation for servicing the oil and gas industry along with general cargo but has been diversifying its client base with the announcement of becoming the operations and maintenance base for the Seagreen wind farm at the end of 2019.
As a Trust port, all the profits are reinvested back into Montrose Port, and since 2011 it has invested over £22million in quayside developments on both the South & North side.
Graeme commented "It is an exciting time to join the Montrose Port Authority and I am delighted to be taking on the role of Chief Operating Officer. For a port so modest in size, it certainly is making itself heard across a wide range of industry sectors and attracting some of the best opportunities. I have been made to feel very welcome by the team at Montrose Port Authority in my new role, with my previous board experience giving me a useful headstart on the introductions."
Tom Hutchison Chief Executive Officer added "We are pleased to have Graeme aboard the team, he has shown great commitment to Montrose Port as an active board member for the past 3 and a half years so it is fantastic we can now call on his expertise in our daily operations. His depth of experience is hugely valuable as we continue to develop our service offering and work closely with the surrounding community."