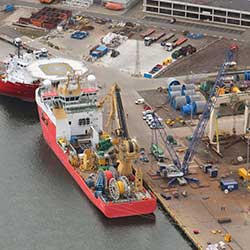 May 5, 2018
Record-breaking month for Montrose Port Authority
Montrose Port Authority has celebrated a record-breaking month due to increased commercial vessel activity.
The leading support and service hub for the energy industry, announced 337,000 tonnes of shipping activity during August 2017; beating its previous record by an additional 100,000 tonnes.
Nik Scott-Gray, chief executive at Montrose Port Authority, said: "Last month's results are a clear indication of the importance of our position within the North Sea's energy industry, and within the general cargo market.
"These statistics emphasise the synergies which exist between the Port and its stakeholders' services, resulting in a strong group performance. The Port offers a consistently flexible approach to its clients, which has resulted in securing future activity."
In addition, Port tenant Highland Fuels is currently upgrading a third fuel line on the harbour's South quayside. This development continues to enhance the Port's capabilities, expanding its service offering to include increased fuel bunkering operations. Benefits to clients include an efficient, cost-effective and environmentally-friendly fuel management system.
Nik continued: "Our aim is to create a hub that supports the energy industry and shipping industries by streamlining processes, including providing economical and reliable refuelling operations for our clients. This is one of a number of investments being made at the Port and its stakeholders, and together with our strategic future developments, will give confidence to the industry that Montrose Port Authority is sustainable for the long-term."