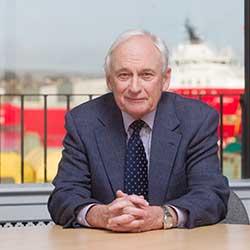 May 20, 2018
New Chairman for Montrose Port Authority
Montrose Port Authority has announced the appointment of a new Chairman of its Board of Trustees.
John Carmichael has been vice chairman of the Port for the last year, holding the position of a non-executive member for seven years prior to this. His knowledge has seen him advise on a range of port management matters, with particular emphasis on infrastructure and development.
Throughout his career, Mr Carmichael played an instrumental role within engineering services company Arch Henderson LLP, working with the company for 15 years. He was responsible for expanding the business, opening offices in Dundee and Clydebank; from which he managed harbour, shipyard and coast protection construction and dredging works, ranging in value from small developments to multi-million-pound projects.
Mr Carmichael succeeds Nick Bradford who retired in September this year after 12 years in post, having successfully steered the Port through investment, construction and development into today's logistics hub for the East Coast.
Nik Scott-Gray, chief executive at Montrose Port Authority, said: "John is already an active participant in many of the Port's activities, making him the ideal candidate for this role. We have a number of long-term goals and I believe having John at the helm of our Board will only maxismise future growth as the Port moves forward with exciting new developments."
Commenting on his appointment, Mr Carmichael said: "I joined the Board eight years ago and since then I have become absorbed by this hugely active Port. "In that time, we have spent some £15million in developing facilities at the port. This includes berths with heavy lift capabilities, which allows us to satisfy the demands of a wide variety of clients from the oil and gas to commercial sectors. A further £8million project to upgrade the 180 metres of berth, again with heavy lift capability, will start in the next few months.
"The Port has a first-class work force which allows us to give a fast, efficient and personal service; the envy of many of our larger competitors. I am delighted to be invited to become its chairman."