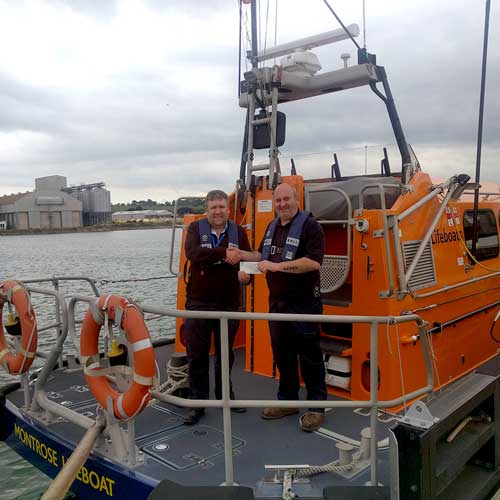 June 10, 2018
Montrose Port Authority Shows Support to Long-Serving Lifeboat Station
Montrose Port Authority was delighted to support the RNLI's Montrose Lifeboat Station at its 525th anniversary dinner earlier this month, where guests raised a total of £420. The leading support and service hub for the energy industry matched this, boosting the total to £900.
Montrose Lifeboat Station is one of the oldest stations in the British Isles. Established in 1807, generations of crews have weathered the region's storms and the station now operates both an inshore D class lifeboat and an all-weather Shannon class lifeboat, allowing crew to safety reach people in all kinds of situations and locations.
Nik Scott-Gray, chief executive at Montrose Port Authority, said: "Montrose Lifeboat Station has been saving lives at sea for over two centuries. As we celebrate our 525th year, it seemed fitting to support a charity which has supported us from day one of its existence, and we felt that this was a very worthwhile, relevant cause which many of our guest and friends would strongly support.
"We are hugely grateful to the crews for volunteering their time and helping to keep us safe every day."
Captain Tom Hutchison, Montrose harbour master and operations manager for Montrose Lifeboat Station, said: "Our volunteer crew are on call 24/7, working in daylight, darkness, good weather and in bad, to keep those at sea safe.
"They are reliant on companies such as Montrose Port Authority to rally round on their behalf, and to see the support from guest on the night of their anniversary dinner is a brilliant boost to our continual fundraising efforts."