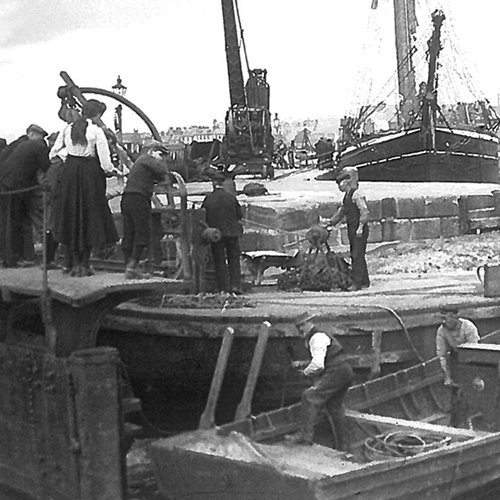 November 20, 2018
Whatever happened to the Ellen Kirstine?
Montrose Port Archivist, John Aitken, has a wealth of fascinating Port history to share. This month, as we reach the centenary of the First World War, he explores the fate of schooner, the Ellen Kirstine.
As World War One hostilities dragged on inexorably into their third year all manner of ships were pressed into service while others had their lifespan extended well beyond their builders' expectations. Such was the story of the 37-year-old Danish-owned schooner Ellen Kirstine which was severely damaged while on a voyage from Falkenberg, Sweden to Granton on the Firth of Forth.
In late July 1916, the three-masted trading schooner built at Svendborg and registered at Thuro, was towed into Montrose harbour by several Gourdon and Montrose motor-driven fishing boats. The fishermen had found the vessel drifting about 16 miles off Tod Head Lighthouse with a "gaping rent" in her port side, the obvious result of a collision with a much larger ship. There had been thick fog in the area earlier. She was still under full sail, but the top of her mainmast was broken off.
Although her deck was under water, the tightly packed timber deck cargo had kept her afloat. There was no sign of the crew, but her lifeboats were still intact.
By the time the four fishing boats were alongside it was decided to head for Montrose, as recommended by Skipper Mearns of the Daisy, as it was closer than Stonehaven. Fortunately, the weather was fine with a gentle swell. The Daisy did most of the towing as she had a more powerful 75 horse power engine. The slow-moving flotilla arrived off Montrose at low water, the crippled vessel being anchored in the bay to await the next high tide. About eight o'clock in the evening on the half-flood, the fishing boats returned out from the harbour with James Stephen acting as pilot. The tow was slow due to the water-logged state of the schooner coupled with the jamming of her steering gear which had made it unworkable. She floated up the River South Esk on the tide to the harbour and was eventually tied up at the Fish Quay. Despite the lateness of the hour a large crowd of curious bystanders had gathered in boats and along the riverside from the Sands to the Lower Lighthouse.
Although the Ellen Kirstine may not have proved valuable due to the earlier damage she had sustained out at sea, her cargo of pit props, due to wartime shortages, may well have proved "more renumerative" for the fishermen involved in the salvage attempt.
It was later reported that her captain and five crew members had been landed safely at a "northern port" which turned out to be Lerwick, by a Russian steamer which was thought to have been the ship which had initially collided with the unfortunate schooner.more news