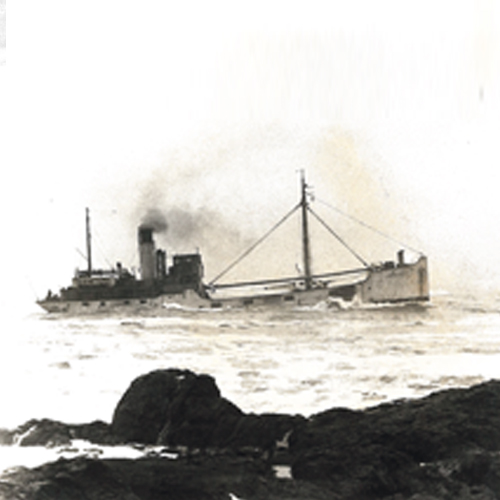 May 1, 2019
From Lochside to Tyneside
MPA archivist, John Aitken, takes us back to the days when "The Beerie" was a familiar sight at Montrose Port. Present day economists call it vertical integration or securing added value to a company or group's method of supply. In modern jargon this is the practice where an in-house vessel or fleet of vessels is used to transport raw material/s for the manufacturing process or distribution of finished product/s.
Many years go this procedure was very much to the fore when a local Montrose brewing firm used steam coasters as "beer boats", the diminutive Lochside followed by the Lochside II to import barley and ship out coastwise barrels of the finished liquid product.
James Deuchar & Sons Ltd. of the Lochside Brewery, situated at the north end of the town, used a series of small coasters including the Wallsend, 1884-built Locksley up to the early 1900s when in 1905 they introduced their own steam coaster Lochside. The Locksley was latterly owned in Stonehaven and wrecked off Emmanuel Head on Holy Island in 1934.
Messrs Deuchar's first ship, Lochside, was built by Smiths Dock Co. Ltd. at South Shields and officially described as a "steel screw ketch with an iron-hulled deck". She was said to have been commandeered during World War One and sailed out of the Russian port of St. Petersburg. Her career changed when she was converted to a coastal tanker by new owners Rowbotham & Sons Ltd. and renamed Helmsman. On 27th October, 1927 she left the River Medway bound for Stockton-on-Tees carrying petroleum in bulk and was later reported overdue. Both the ship and crew were never found.
Her master for many years was Captain Wilson, who transferred to her successor. He died at Montrose after a short illness and his coffin was taken south on board his last command.
In 1925 Smiths Dock Co. Ltd. launched the slightly larger Lochside II at their Middlesbrough shipyard. For the next 30 years she undertook her allotted trade carrying casks of the local brew. According to the Scottish Licensed Trade News in 1956, her last year in operation, she was noted as carrying 1450 barrels per week between Montrose and her owner's bottling plant at Newcastle-upon-Tyne. The quality of her liquid cargo was reputed to improve with the rolling of the ship between the South Esk and the Tyne.
She carried other cargoes later in her career especially in winter when her regular trade was quieter. Such commodities included fertiliser to Berwick-upon-Tweed and on at least one occasion coal to Shetland where she was stormbound in Lerwick for ten days.
As a coal burner she was hungry on fuel and when she passed to her new Danish owners, she was converted to diesel propulsion. Under the red and white flag of Denmark she made voyages to northern Norway and also to the Mediterranean and on one occasion returning to Montrose.
Towards the end of her days she was under the Honduras flag and arrested off the coast of Brittany on an alleged charge of smuggling. After a ten-month period of lay-up she headed for the breaker's yard at Morlaix.
The fact that she had been actively trading so long was partly due no doubt to the maintenance she had received during her early years. For over half a century both vessels had in turn been familiar sights at the Port of Montrose and had earned the title from local residents of "The Beerie".more news