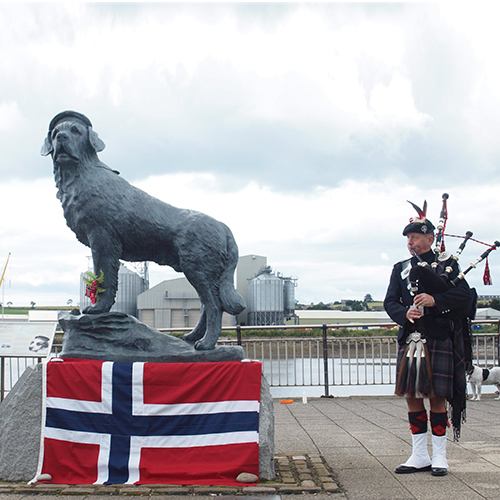 July 26, 2019
75th Anniversary Bamse Memorial Dog Walk
30 dogs and their owners turned out on Sunday July 21st to commemorate a very special four-legged wartime hero.
St Bernard Bamse was owned by Captain Hafto of the Norwegian Navy and went to sea with him on board the minesweeper Thorodd during the Second World War. He achieved legendary status in Montrose and Dundee, where the Thorodd was stationed, as tales of his courage and loyalty spread. Bamse became a global mascot for the Royal Norwegian forces until his death from heart failure in July 1944.Draped with the Royal Norwegian flag and with his sailor's cap perched on it, the dog's coffin was carried through Montrose before his burial, with full military honours, in the sand dunes on the banks of the South Esk estuary.
Bamse was posthumously awarded the PDSA Gold Medal for gallantry and devotion to duty.
In 2006, a statue of the heroic dog was erected at the north side of Montrose Port Authority, overlooking the harbour. This was the result of a massive £50,000 fundraising effort and unveiled by HRH Prince Andrew.
Down the years, the anniversary of his death has been marked by ceremonies involving the Norwegian Navy but for this, the 75th anniversary, organiser Sian Brewis from Montrose Air Heritage Centre invited dog owners to join together in a memorial walk from the heritage centre to the Bamse statue where Dr Andrew Orr, author of best selling book "Sea Dog Bamse" gave a short address.
A variety of breeds were represented including 8 St Bernards.