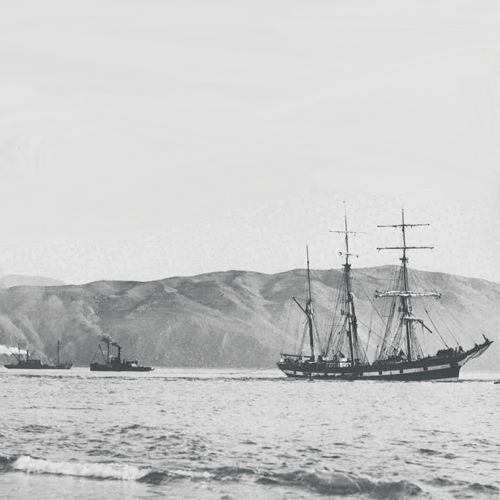 July 26, 2019
Ocean Nomads
In late September, 1867 a large number of people gathered at the East Quay to witness the first composite vessel ever to be built in Montrose from the shipyard of Joseph Birnie & Co. However, all did not go to plan straightaway. The rope holding her on the slip had been cut and the appropriate signal given but the launch was halted. The workforce immediately set about correcting the procedure and she "glided into the water with ease" on the next high tide the following morning.
The barque, named Farningham, had an iron frame, planked with teak and yellow metal-fastened. She was 281 tons register with a length of 116 feet and a beam of 24 feet 9 inches. She was classed A1 for 14 years at Lloyd's. By all accounts at the time of her entering service she was described as "a smart looking vessel". The shipyard had two further orders in hand for an iron-hulled vessel and a small wooden schooner.
When her eventual loss happened about 17 years later it was big news with Australasian newspapers full of the story at the time. The Farningham was first registered in London by a G.H. Payne but ten years later this had changed to Adelaide, South Australia owned by Mr. W. Wells. In 1884 she sailed from Mauritius via Adelaide bound ultimately for Port Chalmers, New Zealand. She departed there under the command of Captain Hayward on June 18th with a full cargo of oats destined for her home port.
About three weeks later she was run down off the coast of Tasmania by the 685-ton iron barque Vanguard running before the wind while outward bound on a voyage from London to Brisbane. The collision happened during a strong gale with a heavy sea running about 6.30 a.m. At the time of the accident the Farningham was apparently hove to.
Nine survivors had a very narrow escape as it was impossible to lower their own boats due to the conditions with the stricken ship sinking in about five minutes. Unfortunately, three of her crew were lost in the incident. The Vanguard though damaged, together with the 11 survivors on board, reached Brisbane safely. The Farningham's owner claimed £5,000 in damages but was awarded only £3,950 in compensation.
The Vanguard, also a typical sail-driven, ocean nomad was built at Port Glasgow in 1852 and later renamed Carl, then Anna and finally wrecked on the Parapato bar in the Mozambique Channel in July, 1904.