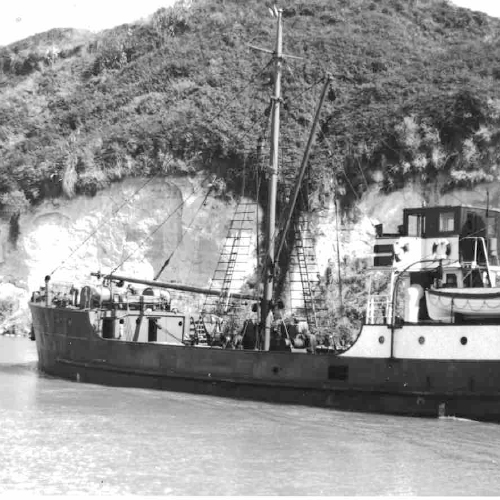 August 19, 2019
Long Distance Delivery
An article in a New Zealand daily newspaper of February 14, 1924 reported: "Inaha Arrives. Montrose to Wellington. An Interesting Vessel."
The news item continued: "An interesting arrival at Wellington this morning was the motor-ship Inaha from Montrose, Scotland via (several) ports. The vessel was inspected by the port authorities and later berthed at No. 4 Queen's Wharf. "Her interest does not lie solely in the fact that she has made the long trip under her own power, for she is in fact the first diesel-engined vessel to be built overseas for the New Zealand coastal trade."
The Inaha was built by the Coaster Construction Company Ltd. Montrose at its shipyard on Rossie Island, to the order of the South Taranaki Shipping Company for trade between Patea and Wellington.
Her length of 110 feet and corresponding deadweight of 300 tons underlined the challenge of sailing halfway round the globe from her birthplace to her destination, where she would be employed in the transportation of dairy produce in her fully insulated cargo hold.
During the Depression of the 1930s, she was fully employed carrying cargoes of cheese along the west coast of North Island. In that period Patea exported more cheese than Auckland and New Plymouth. In 1946, some 26,000 tons or 411,000 crates of cheese were loaded and shipped through Patea, which was then believed to be the biggest cheese exporting port in the world!
The Inaha left Montrose under the command of Captain J G Fullerton who was responsible for several long-haul deliveries of newbuilds for the Coaster Construction shipyard in the 1920s.
She departed the South Esk estuary on 12 September, 1923 arriving at Dartmouth four days later to take on stores for the lengthy voyage ahead of her. After a three-day stopover, she set sail for Gibraltar encountering "a bit of a blow" while crossing the Bay of Biscay. Port Said was reached on October 7, where she then met a period of bad weather sailing down the Red Sea; thus, delaying her arrival at Colombo.
Continuing to Singapore, she berthed there on December 11, later leaving for Sourabaya, Indonesia. After a short interval, she headed eastwards through Torres Strait and down to Sydney, where she took on stores for the last leg of her marathon voyage across the Tasman Sea to Wellington. She was eventually sold to L. Graham in Auckland in November 1959 and the following year to New Britain Electric Company. She foundered off Cape Lambert, New Britain in 1963, after losing her propeller.
For such a small ship, there is no doubt she sailed in the wake of the great navigators and was a credit to her builders, captains and crews having given 40 years of commercial service.