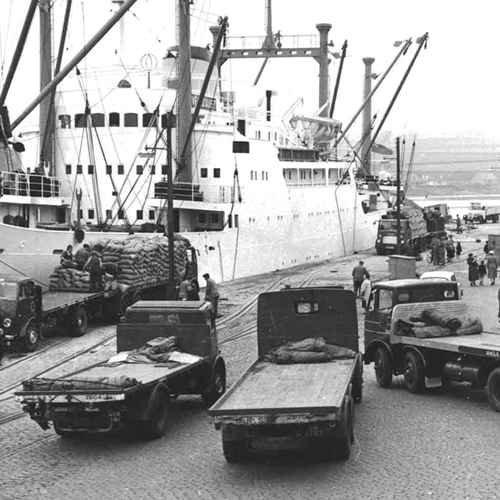 October 2, 2019
Great Occasions
By all accounts there must have been more people at the harbour than for many a day when the London "beat-the-strike" vessel Velazquez sailed for Grimsby for dry docking. Estimates of upwards of 300 bystanders were reported in the vicinity of the Wet Dock when she eased through the narrow entrance.
The crew had made many friends in the town during their unscheduled stay and local citizens turned out to say their farewells. According to one elderly eyewitness, it was reminiscent of the days of the emigrant ships sailing to North America.
The date was mid-June, 1958 as the MacAndrews-owned Velazquez was one of the largest vessels to berth in the Wet Dock. Older residents thought she was slightly smaller than the Queen Mary (not the mighty Cunard transatlantic liner), a Glasgow-owned cargo steamer, which had brought timber from the United States to Montrose port about half a century before.
The sleek, white 2,196-ton Velazquez was almost yacht-like in design and had been diverted from the Thames with a general cargo including early potatoes, casks of wine, oranges and a part cargo of linen, which had remained in her holds in London's docklands for almost two weeks. Thirty men were recruited locally to assist with the discharging on to flat-bed BRS trucks from several depots in the area, which later departed for a number of destinations most of them in the north of England and the Midlands.
A repeat of the event took place almost three years later, when a sister ship Valdes arrived on a Saturday afternoon, no doubt to a large concourse of interested spectators. Her diverse cargo included 1,000 tons of new potatoes. She was noted also as being a great attraction to Sunday afternoon walkers.
The MacAndrews Line, headquartered in London at that time, was among one of the oldest and best known British shipping companies trading to Spain, Portugal and other parts of the western Mediterranean, having been formed originally around 1770, when William MacAndrew commenced importing fruit from the Iberian Peninsula and the Azores.
The company has had several changes of ownership throughout its lengthy career in business, including two world wars and the Spanish Civil War. It acquired its first motor ships in 1920. The Montrose visitors were built in West Germany in the 1950s by Werft Nobiskrug at Rendsburg. They were reported as being 300 feet in length with a corresponding beam of 45 feet making them a tight fit for the entrance to the Wet Dock.