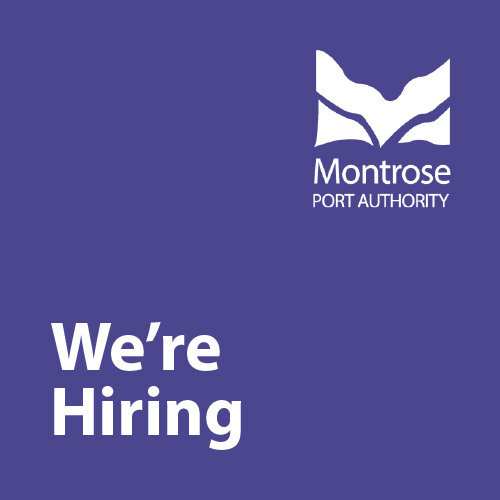 March 10, 2020
We're Hiring: Receptionist
Montrose Port Authority are looking for a new receptionist to join our team.
Job Description
Provide a professional Receptionist service as first point of contact for clients, visitors and contractors to the Port Authority.
Meet and greet a wide range of clients and visitors issuing security passes, directing enquiries and calls from a busy switchboard and being the public face of Montrose Port Authority.
Set up and prepare meeting venues, manage bookings and order catering.
Assist internal departments with administration and back-up support in all office systems and processes including database input and updates.
With a strong history in administration, candidates must have first class customer service skills, excellent telephone manner, and outstanding communication and people skills.
Essentially all candidates must have experience working in a busy reception area and strong computer and keyboard skills in a Microsoft Windows environment.
The Individual should have experience of:
working in a busy office environment using relevant technology and equipment e.g. photocopier, E-mail, Intra/Internet
Clerical/ typing and word processing, inputting of and updating data
Experience in packages including Microsoft Word, Outlook and Excel
Reception and administration responsibilities
The individual must be able to demonstrate:
Effective verbal and written communication skills
Effective organisational skills with an ability to prioritise work
Self-confident and self-motivated
Ability to record information accurately
Ability to use own initiative, work alone and as part of a team
Ability to relate well with all levels of staff
Willingness accept direction/delegation and on the job training and development
Appreciation, acceptance and commitment to the importance of confidentiality
Ability to work in an open plan office
Must be able to work flexibly to meet the needs and demands of the Port
Additional Information:
Salary Band: £17,000–20,000 depending on experience
35.00 hours per week, 9.00am to 5.00pm with one hour for lunch
28 days holiday
LGPS Contributory Pension Scheme
Proposed interview date – 10th March 2020
How to apply:
Please submit your CV and a cover letter to Gillianr@montroseport.co.uk. For further information about this role contact 01674 672 302.
Closing date – Friday 6th March 2020