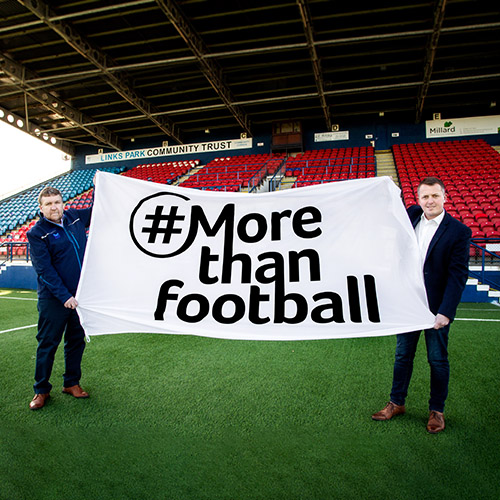 March 31, 2020
Montrose Port donation to help Coronavirus crisis
Montrose Port Authority has donated £3000 to Montrose Community Trust to help them provide essential support to the most vulnerable during the ongoing covid-19 outbreak.
The Trust, which has been running since 2012, is well known locally for their wide range of charitable programmes based around sport and wellbeing which help those who are inactive, unemployed, disengaged from the mainstream school curriculum, living with a disability, suffering from poor mental health, socially isolated, recovering from an addiction or living with dementia.
Although their main focus is normally football, sport and wellbeing they will refocus their efforts over the next few months and use the donation to provide vulnerable and at risk families with food supplies, books and games, while also ensuring that their wellbeing is being taken care of during this difficult time.
Peter Davidson, Chief Executive at Montrose Community Trust, said: "We can not thank the Port enough for their generous donation which will prove a lifeline to many during this unprecedented crisis.
"The work we do through our community programmes is important for so many, but we now need to be on hand to offer support and assistance like never before, while trying to find new ways to connect with people who are social distancing or isolating.
"This donation will allow us to try and deliver the support that is needed and really just demonstrates the abundance of community spirit that there is in Montrose."
Tom Hutchison, Chief Executive at Montrose Port Authority, said " We've long been supporters of the outstanding work that Peter and his team do in the local community and are delighted that we can help the Trust at this worrying time.
"More now than ever, people need to look out for others and join together as a community to get through the worst of this. The work the Trust is doing is central to this and we wish them all the best with their efforts."
Montrose Community Trust is a not for profit organisation which aims to utilise the power and widespread appeal of sport to inspire change through its range of unique and innovative programmes. The trust relies entirely on donations, sponsorship, grants and funds raised from fundraising activities.