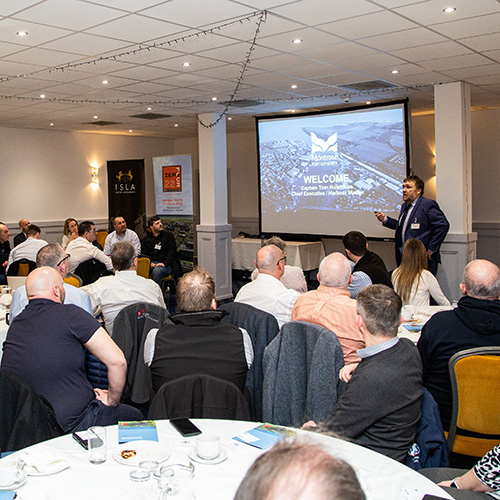 April 26, 2020
Montrose to shine as Port attracts opportunities through Seagreen's Centre of Excellence.
Industry experts & local business owners gathered at the Links Hotel on the 27th February 2020, to hear about the local supply-chain opportunities surrounding Scotland's largest offshore wind project.
Run in conjunction with Tay cities business month, the event hosted by Montrose Port Authority & Angus Council showcased the prosperity that the local area would benefit from with the investment into offshore wind, in particular with the Seagreen wind farm by SSE Renewables.
John Kane, the Procurement & Contracts Manager from Seagreen explained in his talk that the operations and maintenance facility located at Montrose Port Authority will become an Operational Centre of Excellence. The surrounding area will attract increased footfall from employment opportunities throughout Seagreen's lifespan, with many existing businesses evolving their offering into the renewable industry and the launch of innovative start-up companies that are eager to get involved.
Commenting on the investment John Kane explains "Montrose Port really understood what Seagreen were looking for and they have the capacity to expand for Seagreen 2 & 3. In addition their trust port infrastructure gave us increased confidence that they will work in partnership with us throughout the 25 year contract"
Kenny Clubb from Isla Developments introduced their ZeroFour development in his presentation and their vision for the future. He outlined a long-term strategy with the plan to develop the 123 acre (former airfield) site organically alongside the local Offshore Wind investments.
As well as a proposed 130 Bed Hotel, Conference & Leisure facility the development is focused on supporting the Global Centre of Excellence for renewable technology & training within Montrose. This major proposal includes a Heli/Drone port, training centres, collaborative office space and a range of commercial & industrial properties with the intention of facilitating the supply chain required for the offshore wind proposals off the coast of Montrose. Naturally, with a development of this size comes a requirement for local servicing with a number of drive-thru food offerings and a fuel servicing facility being proposed. Phase 1 infrastructure work is due to commence on site in Q3 2020.
Speaking about the event George Fyfe of Energyst CAT Rental Power commented 'Great event, well organised, informative, relaxed with a very open feel to it. It was also great to see the vision and plans going forward for Montrose'
John Dickson, Mesh Global Business Development Manager added "Mesh Global are looking at the Seagreen project with anticipation as although we're an oil and gas company, we do believe we have a lot to offer, and hope we can use this project to diversify our capabilities into the offshore wind industry. The plans also with Isla developments are very exciting and we look forward to welcoming more companies to the area."
Reflecting back on the event Tom Hutchison from Montrose Port Authority shares "There was a real buzz in the room, people are excited about what is coming and the impact it will make on their working and personal life. The opportunities with Seagreen are huge, this is Montrose's time to shine and be regarded as the place to come for Offshore Wind in Scotland"