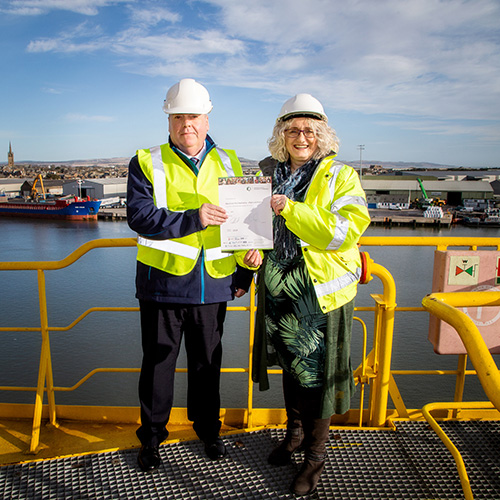 April 27, 2020
Montrose Port Authority navigates new waters with Chamber of Commerce partnership
Montrose Port Authority has strengthened its partnership with Dundee & Angus Chamber of Commerce by upgrading to platinum member status it was announced today (Wednesday 11th March).
The Port has recently been awarded a 25-year contract by SSE Renewables as the preferred location for the operations and maintenance base to service its new Seagreen offshore wind farm. When completed, this will be Scotland's largest facility of its type.
As a key stakeholder in North Angus's economic development the platinum partnership links up the region and opens up opportunities for local businesses and the community to get involved in future developments.
Graeme Nimmo who was recently appointed as Chief Operating Officer at Montrose Port Authority explained "We are delighted to partner with Dundee & Angus Chamber of Commerce as it aligns perfectly with our ethos of being an open, innovative and customer focused Port. We are looking forward to becoming an integrated part of the membership community, helping to support strong and sustainable growth around the region"
The partnership was marked with a tour of the port and a visiting Viking vessel.
As the gateway to Scotland's offshore energy sector, Montrose Port is thriving as one of the most convenient shore points for operations and maintenance work in the North Sea for both Oil & Gas and the growing renewables sector. In addition thirty percent of ship arrivals involve the transportation of general cargo such as barley, fertilisers and refuse.
With a fascinating history that dates back to 1493, the Montrose Port Authority is now established as a trust port with all profits being reinvested into the business, helping to secure the prosperity of the region.