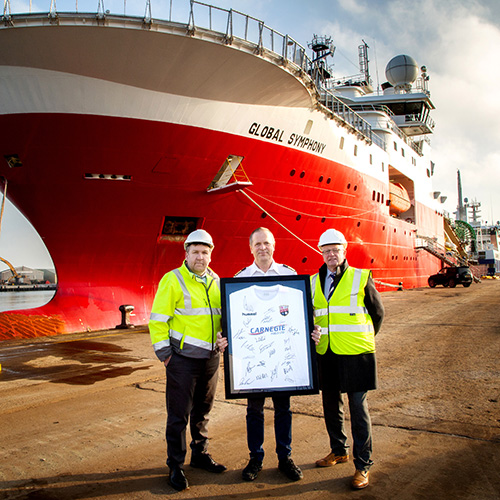 April 28, 2020
Global Marine Group's 'Symphony' calls Montrose Port home
Global Symphony has changed its official port of registration to Montrose enabling quicker access to many of the company's key projects and customers based around the Scottish islands, the North Sea and further afield in the Baltic Sea.
Cementing the relationship with the local community Master Michal Beta, the Captain of Global Symphony was presented with a signed Montrose football club shirt by chairman John Crawford.
The utilisation of Montrose allows the vessel to benefit from the ports close proximity to a number of floating wind farms as well as oil & gas projects in the Baltic and North Seas.
Global Offshore, part of the Global Marine Group, owners of the vessel, are a leading provider of engineering and underwater services, facilitating subsea cable installation, maintenance, trenching and survey requirements for customers around the world.
The ship's flag state provides regulatory control over the vessel and is required to inspect it regularly, certifying the ship's equipment and crew, issuing safety and pollution prevention documents.
Master Michal Beta , the Captain of Global Symphony said "We already have a strong affinity to Montrose having visited for a number of years. The change in Port registration reinforces our ships high standards, it is also far nearer in proximity to the bulk of our work – the next 6 months in particular will see us operate in the Baltic sea. The Montrose FC shirt will hang proudly on our ship's bridge as we travel the waves, reminding us of our new home."
Tom Hutchison, Montrose Port Chief Executive Officer also comments " We are proud that such a fantastic vessel has chosen to identify Montrose as it's Port registry location. The Global Marine Group's decision highlights to the industry again our ideal location along the Scottish coastline, following suit of the recent 50 year SSE Seagreen contract win."