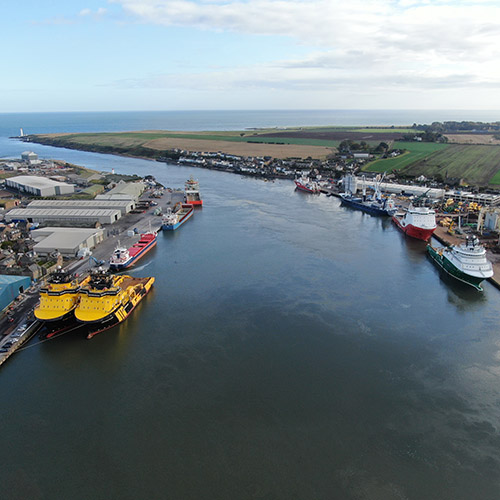 September 10, 2020
SSE finalises plans for Seagreen O&M base at Montrose Port
Following extensive consultation with the local community and other port users Montrose Port Authority and SSE Renewables have finalised plans for the operations and maintenance base for Seagreen offshore wind farm.
The 1,075MW Seagreen project is located 27km off the coast of Angus. A £3bn joint venture between SSE Renewables and Total, Seagreen will be Scotland's single largest source of renewable energy, providing a significant contribution to Scotland's net-zero ambition and enough clean, renewable energy to power 1.3 million homes. The wind farm will also support a £1.8M community benefit fund which will be divided between six Community Councils.
SSE Renewables, which is leading the development and construction of the wind farm, announced last October it had selected Montrose Port as the home for the operations and maintenance base for the 114-turbine development, bringing investment and jobs to the local area for the 25-year life of the project.
Work has been underway since to agree plans for the base at the Port's South Quay which include an operations building, repurposed warehouse, communications tower, and a pontoon for crew transfer vessels travelling to the Seagreen site offshore.
Following initial concerns raised by port users including Ferryden fishermen as well as local residents about the design of the floating pontoon, SSE Renewables and Montrose Port Authority have been working closely to redraw the pontoon layout. As a result, a new design for the pontoon has been published, in agreement with port users and residents, which will see the pontoon now located alongside Berth 5 to address those initial concerns.
The publication of the new design layout will allow construction work on the operations and maintenance base to commence in Autumn 2020. Construction is expected to last around 12 months with the base due to be completed by late 2021.
Chief Executive of MPA, Captain Tom Hutchison, said:
"As a Trust Port we have a duty of care to all our stakeholders to ensure that we operate in a fair and transparent manner for everybody's benefit. We listened to the concerns put forward about the original pontoon design and after working collaboratively with all parties involved have come up with a working solution.
"The Seagreen project is of huge importance to the local economy and will create a significant number of jobs here in Montrose and the wider area. We are delighted that this phase of the development has been agreed and look forward to construction work getting underway shortly."
Andy Kay, Seagreen Operations & Maintenance Package Manager said:
"The Operations and Maintenance base at Montrose Port will play an important role in the day-to-day running of Seagreen and we're pleased to confirm that we have finalised plans for this.
"Seagreen represents one of the largest construction projects ever undertaken in Scotland and will support a significant number of jobs during construction and throughout its operational life.
"Maintenance activities will be overseen from Montrose Port by our team to ensure the project is able to deliver clean, renewable energy reliably and safely on a day-to-day basis."
Member of Parliament for Angus, Dave Doogan, added:
"This is a vital milestone in the delivery of the Seagreen project. The opportunities of construction will be positively felt while the ongoing employment opportunities of Operations and Maintenance at Montrose Port are very welcome here in Angus and especially in Montrose.
"This will put Montrose in an enviable position as we continue to develop renewable energy opportunities in the North Sea in the coming years and I look forward very much to seeing first-hand the positive impact of the £1.8 million Community Benefit Fund on the six communities set to benefit."
First power at Seagreen is expected by the end of 2021 with the offshore wind farm expected to be completed and enter commercial operation in 2022/23.