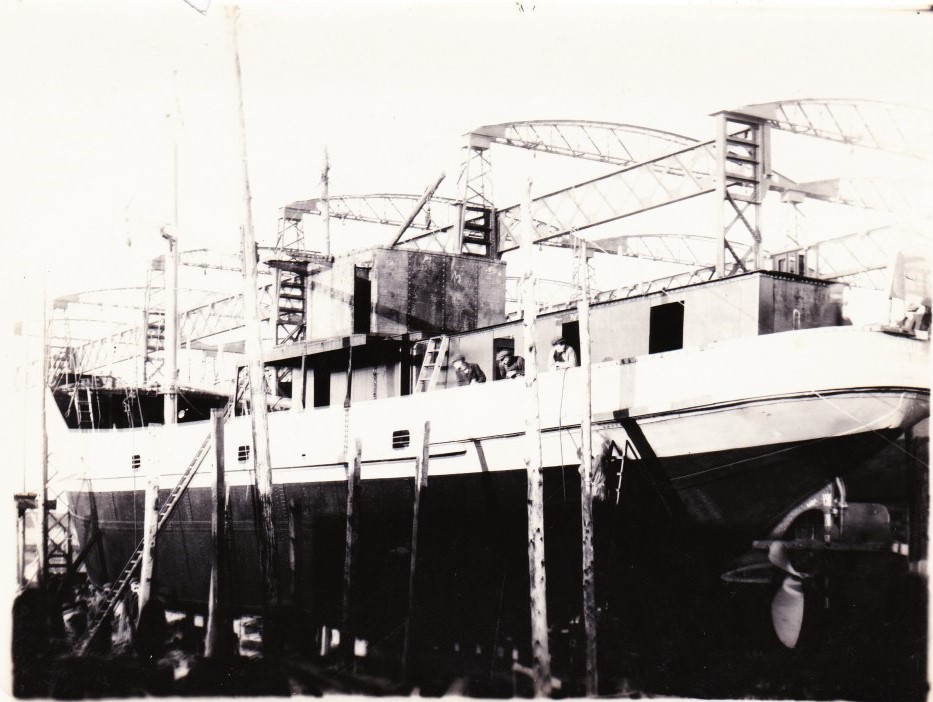 By John Aitken
On Saturday, 22nd January, 1921 an unforeseen mishap occurred in Montrose caused by a fierce gale and a subsequent tidal surge.
Some estimates put the rise in the river at 20 feet, almost two feet above prediction, the result being that the initial launches from the Coaster Construction Co. Ltd.'s shipyard were aborted. 
Much interest had been centred around the planned double ceremony – the first vessel expected to leave the ways was the Rossie (100 feet in length) named after the island on which the yard was located. After being christened she glided down the ways gradually gathering speed when she came to a standstill halfway down the slip much to the disappointment of the spectators.
Although the ceremony had been brought forward, due to the rapidly rising tide which brought an immense swell into the South Esk one of the launching ways became dislodged. Despite being quickly repairable, the Rossie's "natal" day was postponed until the following Tuesday. This unfortunate event however did nothing to prevent the vessel having a hard and mainly profitable working life. She was built on spec to give the employees of the fledgling company experience in costing, estimating, design and construction.
Her first job on completion was to install new dock gates for Montrose Harbour Trust. The initial order had been given to the Caledon Shipbuilding & Engineering Company Ltd. in Dundee and in order to include "local content" the installation contract was awarded to the Coaster Construction yard.
She was named, not unsurprisingly, "Rossie" after the island site on which she had been built and shortly after was sold to the Manx Salt & Alkali Company based in Ramsey on the Isle of Man.
She was described as "being of straight framed construction and usually sailed through the waves rather than riding them," according to local eyewitnesses on the Ramsey quayside.
Her career around the Irish Sea included several strandings, partial sinkings and a few successful salvage operations. She became one of those "character ships" to have sailed in and out of Ramsey and was affectionately known as "Manxie".
Although no beauty queen, she carried potatoes, seeds, scrap and building materials in addition to her regular shipments of salt and on several occasions carried sheep, once bringing 300 head across the Irish Sea from Kirkcudbright.
In 1946 she was sold on to an owner in Scandinavia who placed her under the flag of Denmark. Several name changes followed – as the Elise Larsen she had been fitted with a diesel engine which replaced her original steam propulsion. Spells under the Swedish flag came later and she was involved latterly in the Baltic timber trade, but by the late 1970s, after a lengthy spell of idleness, her age had caught up with her and she was towed from Karlskrona by the tug Starke to be broken up.