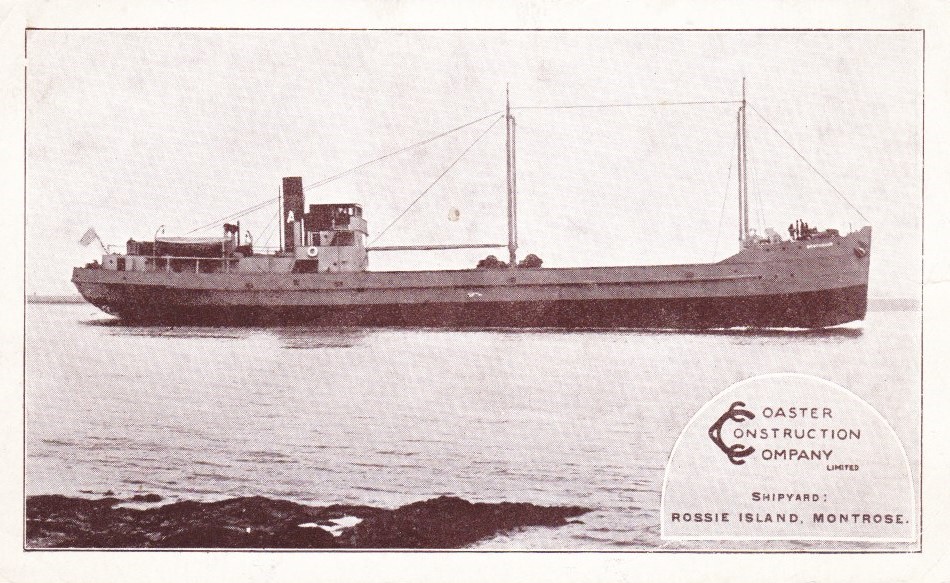 September 28, 2021
MISHAP AT LAUNCH
By John Aitken
It was planned by the Coaster Construction Company Limited to launch the collier Southquay from their new shipyard on Rossie Island, Montrose on the penultimate Saturday of January, 1921. As it happened the weather intervened with a strong tidal surge in the River South Esk and the arrangements were put back to the following Tuesday afternoon.
A large crowd of spectators had assembled along the quaysides on the north side of the river. Scholars from local schools including the Elementary Academy were present to witness the successful launch of the 201-foot long vessel.
The ship made a graceful plunge into the South Esk at such a speed that the tug which was engaged to tow her to the fitting out berth was unable to prevent her swinging round and coming in contact with the Protection Wall at the Dock Head (close to the entrance of the former Wet Dock). Fortunately, those on board the Southquay eased the effect of the collision by dropping fenders between the ship and the quay, the result being that the damage was minimal to the ship and the stone wall.
In proceeding upriver to her mooring berth at the Fish Quay she glanced off the derelict Danish sailing ship Fredensborg which had been refloated and towed to Montrose after running aground near Johnshaven a few miles to the north. However, the Southquay did cause some damage to the local fishing launch Rosa which was owned by Mr. Noel Johnston. Willing bystanders in the vicinity prevented further damage by pulling the fishing boat further along the quay but only after one of her masts had been broken.
The Southquay, which had been built to the order Messrs. Claude Augell & Co. Ltd., Cardiff/Manor Line (London) Ltd. of London was of 1,450 tons deadweight and capable of a service speed of ten knots. She left the shipyard on her first voyage to Newcastle to load coal. Sadly, her career was relatively short as later that year on 18th September was thought to have struck a rogue World War One mine and sank with all hands off Cap de la Hogue near Ushant, France while on a voyage from Barry, South Wales with a cargo of coal.
Apparently surviving photographs of the Southquay are few with a rather faded one in a private collection of her on the slipway at the Coaster Construction Co. shipyard plus a postcard produced for advertising purposes by her builders.