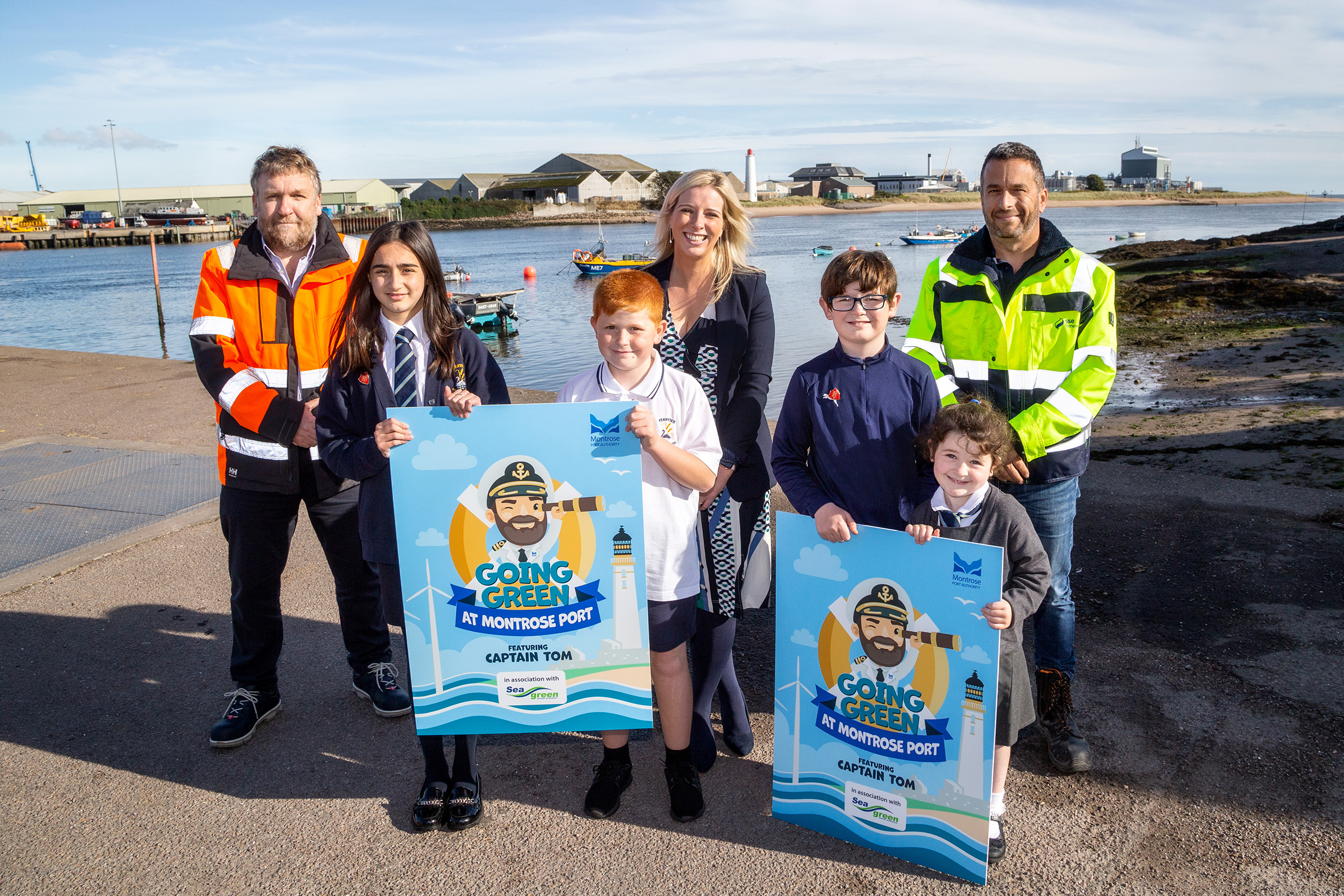 October 4, 2021
Renewables skills boost for local pupils with launch of new activity pack
School pupils across Angus and south Aberdeenshire are set to learn about the renewable energy industry blossoming on their doorstep thanks to a new activity pack created by a North-east port in association with one of Scotland's biggest wind projects.
Montrose Port Authority created the activity pack with the backing of Seagreen Wind Energy which is a joint venture between SSE Renewables and TotalEnergies to create the 114-turbine Seagreen Offshore Windfarm 27km off the Angus coast.
Once complete, Seagreen will produce enough electricity to power 1.6million homes – around one third of all the power consumed in Scotland and as part of the project, Seagreen is committed to delivering ongoing value for communities across the Angus region.
The pack, which follows on from a previous set of activities unveiled at the start of lockdown last year, has been distributed electronically to all schools in Angus and the Mearns teaching children about how wind power works, the importance of renewables to the economy and will hopefully encourage the next generation of talent to consider a career in the industry.
Captain Tom Hutchison, CEO and Harbourmaster at Montrose Port Authority, said: "We are delighted to once again be engaging with local school children through a colourful and educational activity pack. We know how difficult it has been for school pupils over the last year or so and we hope that this can bring a bit of fun into the classroom as well as teaching pupils about renewable energy, how it benefits the planet and economy, and perhaps we will see some of them choose a career in the sector in future.
"I would like to thank our partners at Seagreen as well as our creative partners for their hard work in putting it all together and making it come to life. We hope that teachers find it useful and that the children have lots of fun working through it – I can't wait to see their finished wind turbine models!"
Project Manager for Seagreen, Sid Anverali said: "When our colleagues at Montrose Port asked for our involvement in the schools activity pack, our team were more than happy to help. We hope that the activity pack helps local school children learn about the vital role that Seagreen and other renewable energy projects have to play in our country and our planet's future."
In addition to the activity pack, Montrose Port Authority and Seagreen have also engaged with school pupils in the town to mark the upcoming opening of the wind farm's Operations and Maintenance (O&M) Base at the port. Pupils at all primary schools in Montrose were asked to submit suggestions for the official name of the main office building, with the theme of town, the sea, and the environment taken into consideration.
Meanwhile, pupils at neighbouring Ferryden School were asked to suggest items to be included in a time capsule to be buried on the site and excavated in 25 years' time and the results of both competitions will be announced after the October break.
Headteacher at Ferryden School, Michelle Mackay, said: "We are looking forward to being part of the community again after the Covid-19 restrictions. We have had lots of great ideas for names of the new building and what should go in the time capsule. We would like to thank the Port authority for the many donations they gave us to start up our Loose Part play at Ferryden and for the donation of water bottles. We look forward to building further positive connections and relationships in our local community with the Port."
Schools were contacted directly ahead of the Summer break, however if any teachers have not yet received the pack and would like to do so, please email chris@yourduenorth.com.
In 2019, Montrose was chosen as the onshore Operations and Maintenance (O&M) Base for the new 1,075MW 114-turbine Seagreen Offshore Wind Farm being built 27km off the Angus coast in the Firth of Forth – a £3bn joint venture between TotalEnergies and SSE Renewables which will be Scotland's largest and deepest offshore wind farm when complete in 2022/23.
The wind farm is expected to provide enough electricity for 1.6million homes – around two thirds of all households in Scotland – and will also see the creation of a £1.8million community benefit fund to create a lasting legacy for the town and wider Angus region.
The pack can be downloaded here.