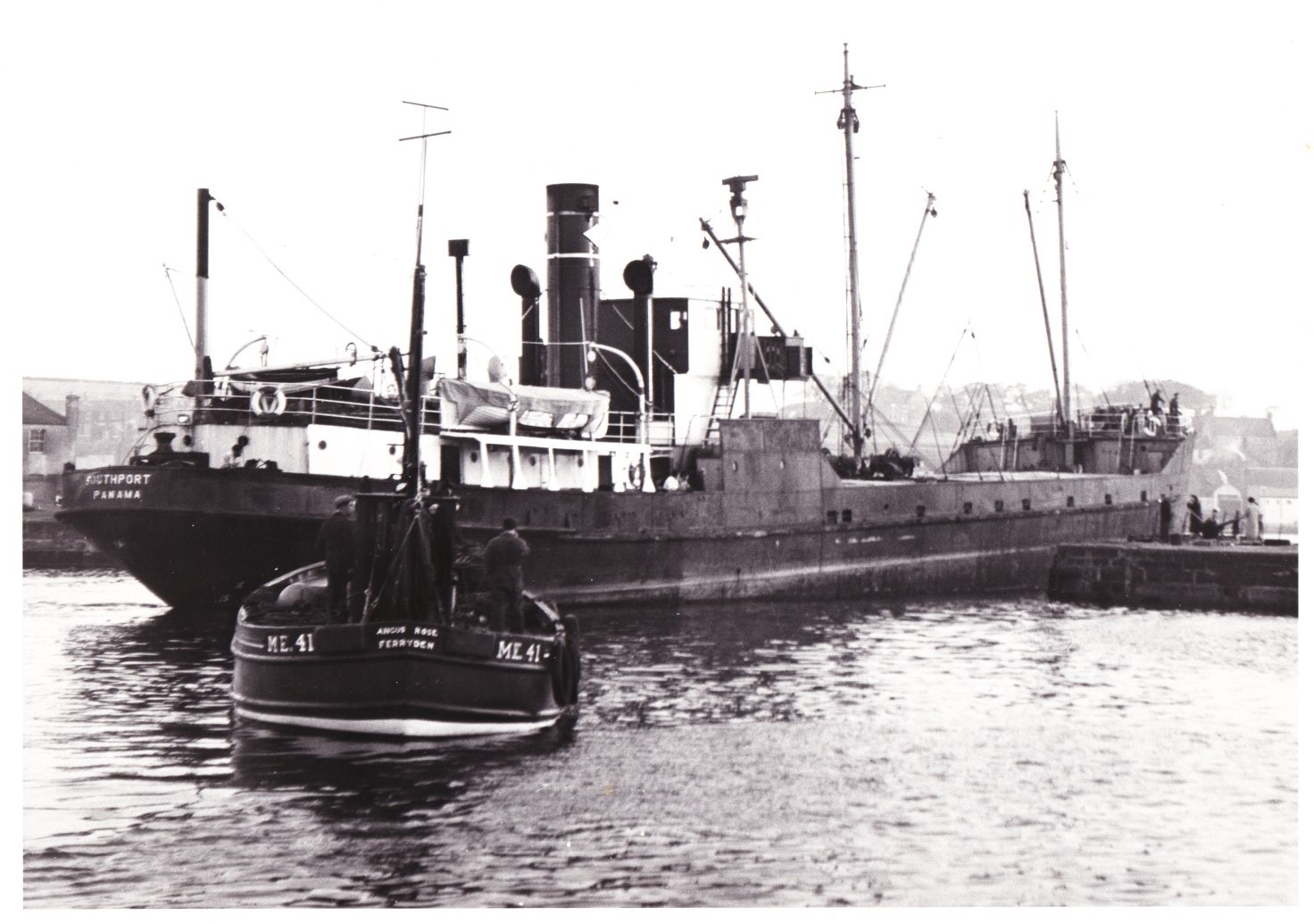 December 9, 2021
Model of Montrose-built ship in Hamlet's castle
By John Aitken
Late March, 1922 saw the launch of the Newcastle-registered ship Emilie Dunford launched from the relatively-new shipyard of the Coaster Construction Company on Rossie Island, Montrose. She was completed as the first ship of the Dunford Steamship Company and entered the South Esk without a hitch having been named by Mrs. Dunford.
Generally described as a 201-foot long, 1,460-ton deadweight, self-trimming, steel screw steamer. On owner's trials in May of the same year she reached a speed of 10.5 which was slightly above her design speed of 9 knots. On final completion in May she sailed for the port of Blyth, Northumberland to load her first cargo of coal.
After a decade in service she was sold on to Ludvig Lorentzen, Oslo and moved over to sail under the flag of Norway as Lysaker 11. In 1937 a move to other Norwegian owners O. M. Olsen was recorded. Two years further on another change took place with Skibs. A/S Samev being given as part owners renaming her Samev, with a different port of registry, that of Frederikstad. In February 1937 she had been in collision with the cargo steamer A. P. Bernstorff at the entrance to the Danish port of Esbjerg, being re-floated after a few days then sold for repair.
During a coach tour to Denmark in 2006 I visited Kronborg Castle at Helsingor famous for its connection with Shakespeare's Hamlet. Deep in the heart of the fortress was a maritime museum. One of the glass-cased exhibits contained several model ships, two of which were salvage vessels and the other was an old-style coaster. Interestingly, the ship being raised was the Lysaker 11, formerly the Montrose-built coastal steamer Emilie Dunford!
The story continues as she was re-purchased by British owners for £20,000 and returned to the UK flag to sail under the Red Ensign once more. She became the Copthall of the Copthall Steamship Co. of London in 1950. While under that name, I saw her in a dry dock in Leith and later discharging bagged cement at Dundee in the mid-1950s. She was also reported as passing her birthplace heading northwards towards Aberdeen with a cement cargo.
But further changes were still taking place in her lengthy career on the high seas. She was sold on to J B Shipping Ltd, and in 1959 to Ferriports Ltd. (A. Moschakis), London taking her final name, that of Southport, with the same managers. Somewhere along the line in 1956 she was reported as having been in collision with an Elder Dempster cargo liner in the River Thames and towed to the Tyne for repairs. In the early 1960s she was photographed leaving the Wet Dock at Montrose (see accompanying illustration) with her port of registry shown as Panama.
But she couldn't cheat the breaker's torch indefinitely. Having ran aground at the entrance to Briton Ferry laden with a cargo of basic slag, she was re-floated, finally arriving at Briton Ferry for final dismemberment by T.W.Ward Ltd. in 1964.
A lengthy, if somewhat chequered career, had begun on the ways at Rossie Island, Montrose over 40 years previously. A credit indeed to her builders.