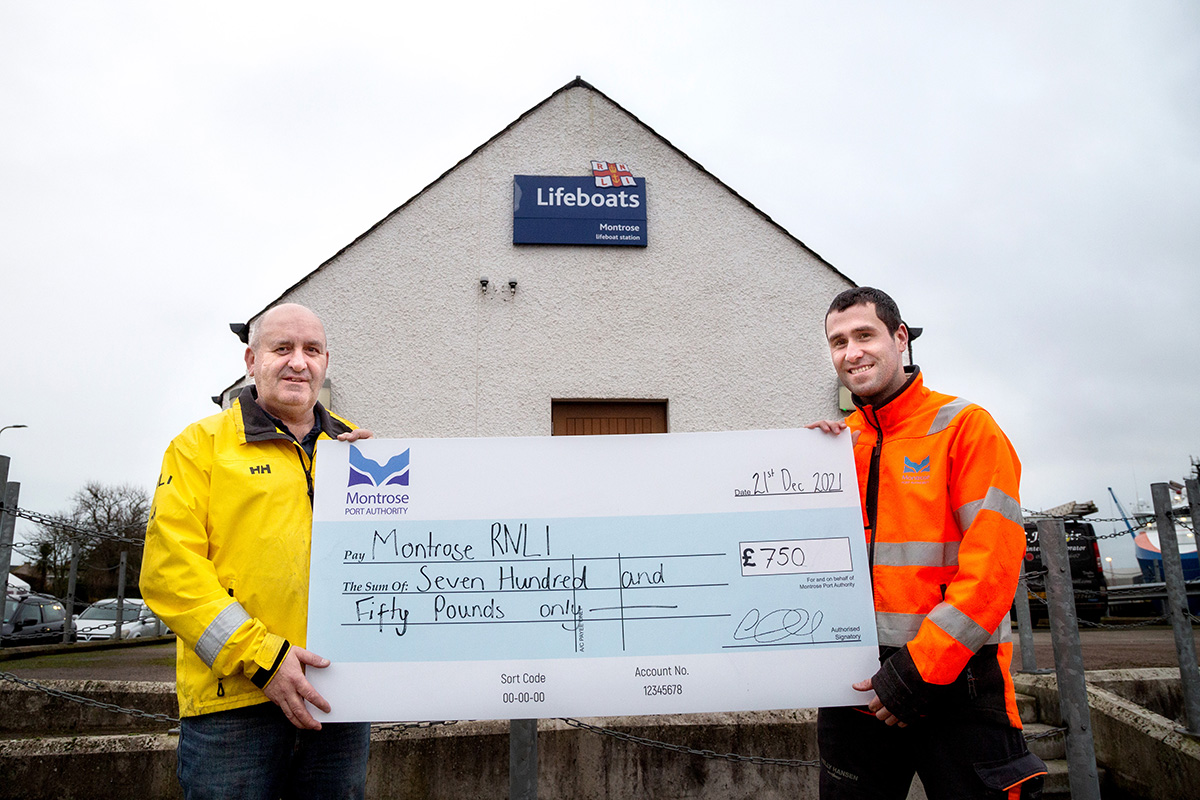 December 22, 2021
Montrose Port spreads Festive cheer to local causes
Festive spirit has been spread around Montrose by the team at Montrose Port Authority (MPA), which pledged £3,500 to four good causes in and around the town before Christmas.
As a trust port, MPA takes its place in the heart of the community seriously and as such regularly supports local charities, community groups, and schools with donations of funds as well as goods and services.
This Christmas, the team chose to support the TayFM Cash for Kids Mission Christmas appeal with a £1000 donation to buy gifts for local children who otherwise would go without.
Additionally, port bosses agreed to donate £750 to both the Montrose RNLI and Seafarers Society as well as £1000 to the Montrose branch of Poppy Scotland for its monthly cafe and ongoing work.
Lynn Sayer, Business and Commercial Manager at Montrose Port Authority, said: "Being physically at the heart of the Montrose community is a responsibility we take very seriously, and we are proud that, as a trust port, we don't answer to shareholders, but instead use our profits to make a real difference to the town and wider Angus region.
"To this end we are delighted to be able to donate £3,500 to four local causes which do so much good in our area. Next year we aim to grow our charitable giving even further with even more causes benefiting from our continued business success.
"We would like to wish everyone in the region a safe and Merry Christmas and prosperous 2022."
With so many families struggling this Christmas with the ongoing financial impact of Covid, one of the charities benefitting from the Port's donations has said it really is needed now more than ever.
Carly Mackenzie, Acting Charity Manager at Cash for Kids Tayside, said: "I would like to say a huge thank you to the team at Montrose Port Authority for their very generous donation of £1,000 to our Mission Christmas campaign!
"This donation allowed us to go out and buy gifts for children on Christmas day, who otherwise would have woken up to nothing. This year so far we have had applications in for over 4,000 children across Angus, Tayside and North East Fife. Without your support our job would be impossible – thank you from the bottom of our hearts!"
So far this year, Montrose Port Authority has donated more than £20,000 to various causes across the region, with the RNLI, Montrose Rugby Club, and Montrose Community Trust being the biggest beneficiaries receiving around £5,750 between them.
More information on Montrose Port Authority and its role as a trust port can be found elsewhere on the website.