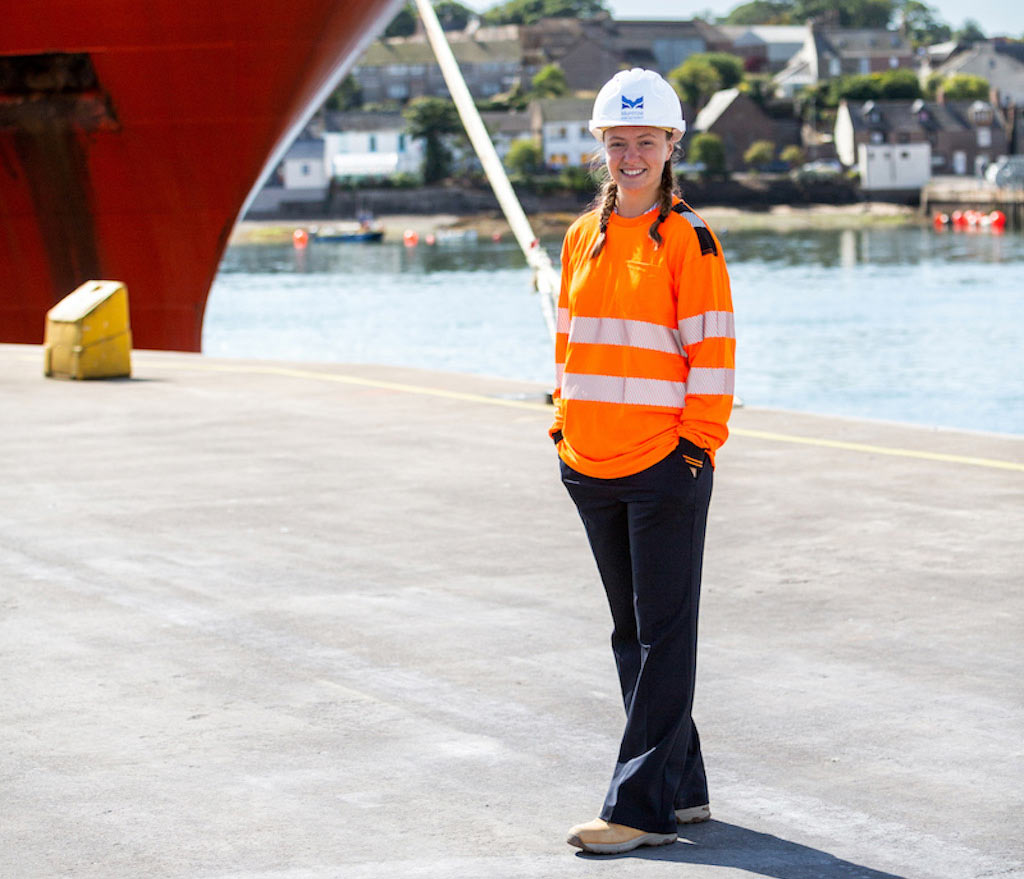 August 18, 2022
Meet our Work Experience Student
From senior roles to entry-level, we have a close-knit team here at MPA who know that as we are a Trust Port, the fruits of all our labours are reinvested back into the Port. We reinvest not only into our infrastructure but also into the development of our team. From Harbour Master diplomas to graduate apprenticeships in Business Management, we enable our team to reach their full potential as investing in people is important to us.
This summer we have had a university student, Lydia, join us for work experience which we were more than happy to provide for her. Lydia kindly sat down with us to talk about what the experience has been like so far.
Hi Lydia, tell us what are you studying at university and where?
I'm at the University of Glasgow studying Mechanical Engineering and I'm about to spend my third year studying abroad in Vancouver, Canada.
That's exciting! We heard you spent some time at a NASA Space Academy, could you tell us a bit more about that?
Yes, so in my 5th year at Lathallan School, I applied for and was selected to attend the Scottish Space School, where a group of 100 students from around Scotland spent a week doing space-related workshops, hearing talks from NASA astronauts and personnel, learning about the current goals of the space industry, and understanding more about what it would take to begin a aerospace career. It was a lot of fun!
Wow, what an experience. What was it like going to Lathallan School?
I loved my time at Lathallan, it was great school and I made good friends there. Studying hard was made easy by the teachers, who were invested and motivating, and the daily sport was something I really enjoyed. The outdoor education department was also fantastic and facilitated some of the best experiences I've had in my life so far.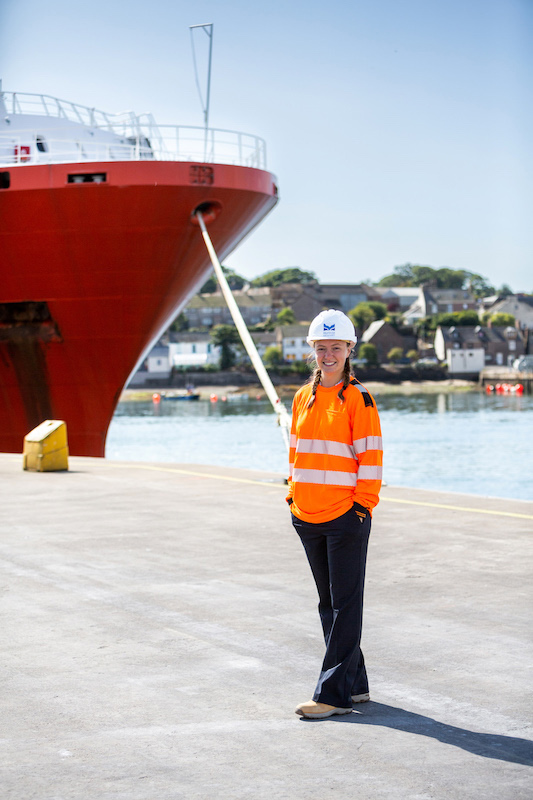 Why did you decide to get in touch with the Port about work experience and what do you like about the organisation?
I decided to get in touch with Montrose Port about work experience because I knew it to be an active port with a strong interest in growing connections to the local community. I'd been part of the new North Quay opening ceremony in 2019, leading my school's pipe band, so had briefly met Tom and Lynn before, and thought I'd send an email on the off chance I could spend some time learning with them. I'd also heard about Montrose being selected as the Operations and Maintenance base for Seagreen, and my interest in renewables meant I'd take any opportunity to meet vessel crew or technicians working on the construction of the wind farm.
What has your experience at Montrose Port been like?
It's been great. I've thoroughly enjoyed my time with MPA so far. They are diverse in the services they offer, so I've learned a wide range of new things about their involvement in the shipping industry.
What is the main project you've been working on for MPA?
So far, I've had the opportunity to take part in a number of activities around the Port. I've spent time in the Port's workshop learning about and trying some fabrication techniques and have helped to install a few railings and bollards around the Port estate. I've been shown around a large vessel – an anchor handler – by the Head Engineer, learning about how their engines and on-board equipment is powered. I've had a trip out of the harbour in the Port's pilot boat, learning how the marine team help to transfer the marine pilots safely onto the arriving and departing vessels. When I'm not outside, I spend my time in the office helping the administration team transition the organisation's paper files to a new online system, supporting them in their initiative to become a greener Port.
We're glad you've been enjoying your experience with us. How would you describe the team here?
My experience of the MPA team is that they are a group made up of hard working yet accommodating professionals, that have gone out of their way to help me learn about and experience all aspects of the Port. There seems to be a strong teamwork culture which is something I respect.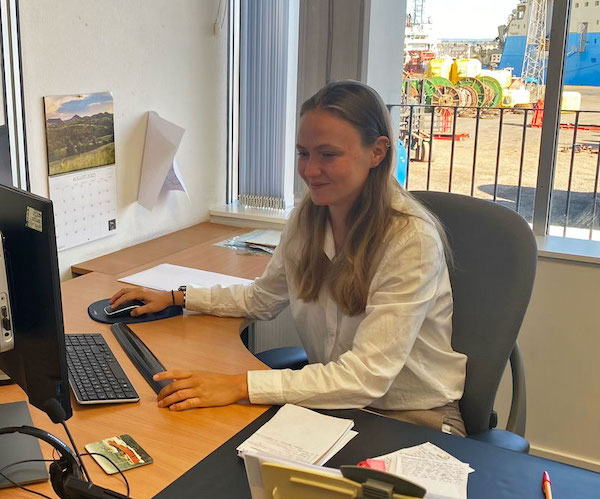 That's great to hear. Where do you see yourself in the future?
It's hard to know what the future will hold, but at the moment I'd like to work for, or start up, a company that helps to bring renewable energy and affordable housing to developing countries; making living sustainably more accessible while improving people's quality of life though access to basic amenities. It was a 5th year school trip to South Africa that really opened my eyes to global inequalities, and I feel passionate about one day using my skills and experience to make a positive difference.
How has work experience at Montrose Port helped you towards achieving your future goals?
Working in the Port has helped me understand how much a small and focused work force can achieve, and how much easier it is to run an efficient business when your colleagues are friendly and share the same goals. I've also seen how the shipping industry is changing along with the rest of the world. The drive to eventually run engines on electricity is already evident in some hybrid ships; and some of the newest contracts are the ones to aid the construction of wind farms and decommission oil rigs. I've also spent some time with the HR and Health and Safety departments, so I have a better grasp on the current rules and regulations required in the running of a safe and successful business.
What three words would you use to describe yourself?
That's difficult! I'd say determined, inquisitive and adventurous.
Last question and just for fun – If you could hop on a ship and go anywhere in the world right now, where would you go?
I'd go to South America then travel (probably on a smaller boat!) up the Amazon, to experience the rainforest (while it's still there).