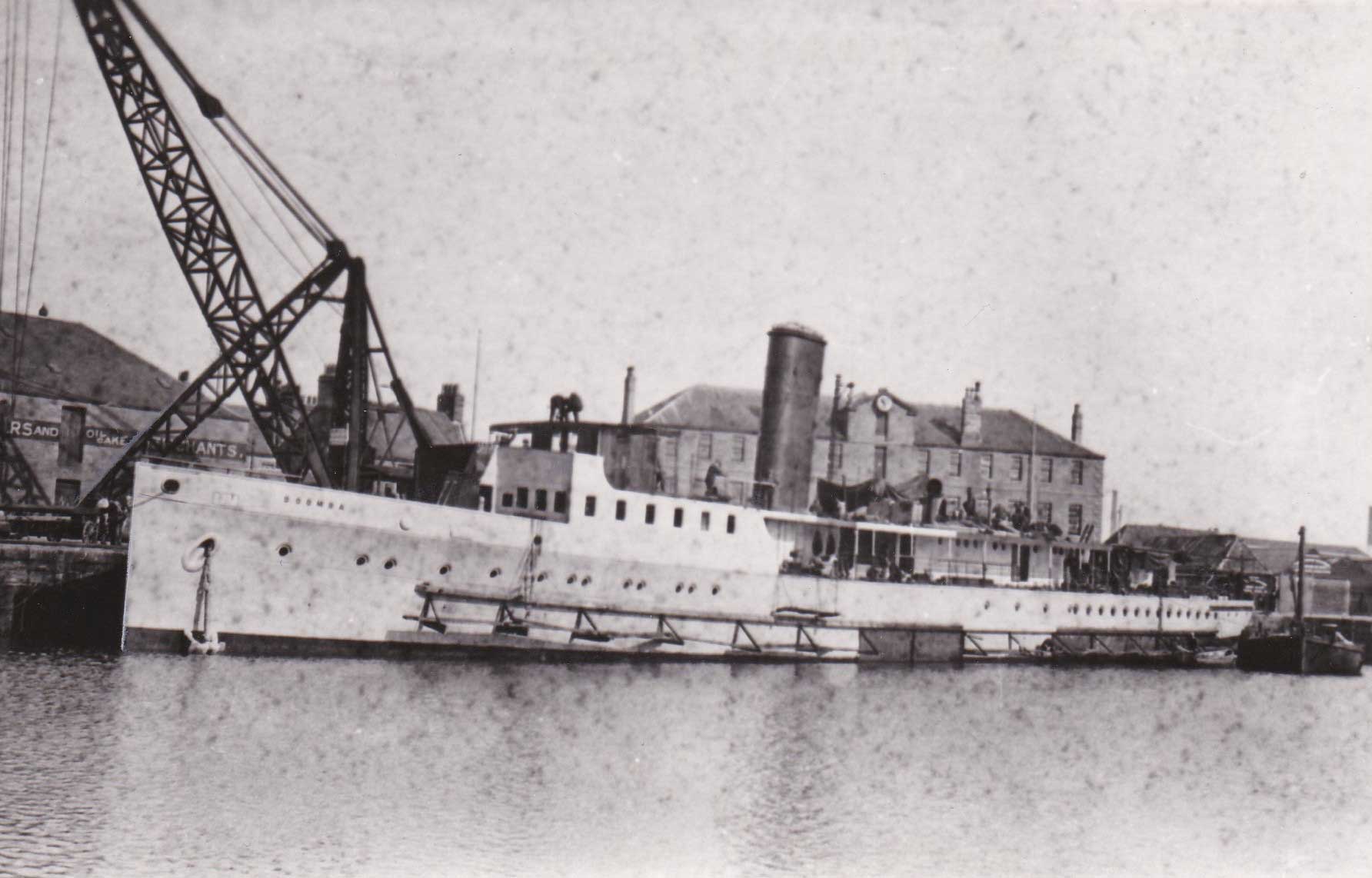 September 26, 2022
The Doomba: She Swept The Sea Lanes For The Queen Mary
In 1922 the Brisbane Tug and Steamship Co. felt the demand for additional excursions merited the acquisition of a second vessel to supplement their existing single passenger ship. The result being that the company began negotiations for the purchase of HMS Wexford which had been built in 1919 under the Emergency Naval Programme by Wm. Simons & Co. of Renfrew as a later "Hunt" class minesweeper.
Laid down in January, 1919 and launched in October of the same year she was commissioned for trials 11 days later. She proceeded to Devonport and reduced to Reserve having seen no service.
On 22nd December, 1921 she was sold to Stanlee Shipbuilding Co. but two years later was acquired by the Coaster Construction Co. on Rossie Island, Montrose. She was re-constructed and re-named Doomba, an Aboriginal name for "Wombat". She left Dundee after a dry-docking on 5th May, 1923, arriving in Brisbane on 4thAugust, having sailed out at a fairly leisurely pace using only one boiler and encountering periods of rough weather along the lengthy route.
Doomba had accommodation for 1,524 passengers. Her speed of 18 knots and used five tons of coal for the 80-mile trip to Bribie Island and back.
Her technical measurements were 750-ton gross with a length of 219 feet and a beam of 29 feet. She was built of steel, had a straight stem (bow), cruiser stern and a flat keel.
From her entry into service in 1923 until 1928 proved her to be a speedy ship and the "largest and finest excursion vessel Brisbane ever saw". Her re-construction at Montrose had seen a large amount of steel removed therefore her lighter hull gave some improvement in speed and on a few occasions she topped 19 knots.
By 1928 the motor car had begun to make its presence felt. As the Doomba was costly to operate, she was withdrawn from service. However, she had one final fling in 1936. Then her funnel was covered over and she was laid up alongside the company's wharf. Her future looked bleak.
As unfortunate and regrettable war may be, it was timely in 1939 that it gave Doomba a new lease of life. The service she then performed was impressive for a vessel of her age, namely 20 years. She was "called up" on 3rd September, 1939 by the Australian Navy Board. Partial conversion was undertaken by Horn Engineering Ltd. over a period of three weeks and she was armed with machine guns and depth charge launching equipment.
She was the first merchant ship to receive her commission into the RAN in World War Two. On 25th September, 1939 she left Brisbane for Sydney never to return. When she arrived at the major New South Wales port rumours circulated that she had come from China another that she was a banana boat.
She departed later for Melbourne to join the Minesweeping Flotilla where she was reckoned to be the best auxiliary minesweeper in the fleet.
The Doomba undertook minesweeping duties in St. Vincent Gulf and Spencer Gulf as far up as Whyalla. Her coaling station was at Port Welshpool and she swept for convoys which included the ocean liners, by then troopships, Empress of Canada, Orion, Orcades and the Queen Mary. She then engaged in convoy work until 1944 and again was converted to an Officer Training Vessel for Flinders Training Depot.
In March, 1946 she was sold to Penguin Pty. Ltd. then eventually being purchased by Meggitts Ltd. of Sydney, manufacturers of linseed oil products. Her engines were removed and she was converted into a dumb barge when several bulk oil tanks were installed. Renamed Meggol, she spent from 1953 to 1970 in that role before being scrapped.
There is no doubt the happiest days in her long career were spent in the ownership of the Brisbane Tug and Steamship Co. An interesting 50-year life for the minesweeper initially converted by the Coaster Construction Co. at Rossie Island and in the former Wet Dock at Montrose (see illustration).