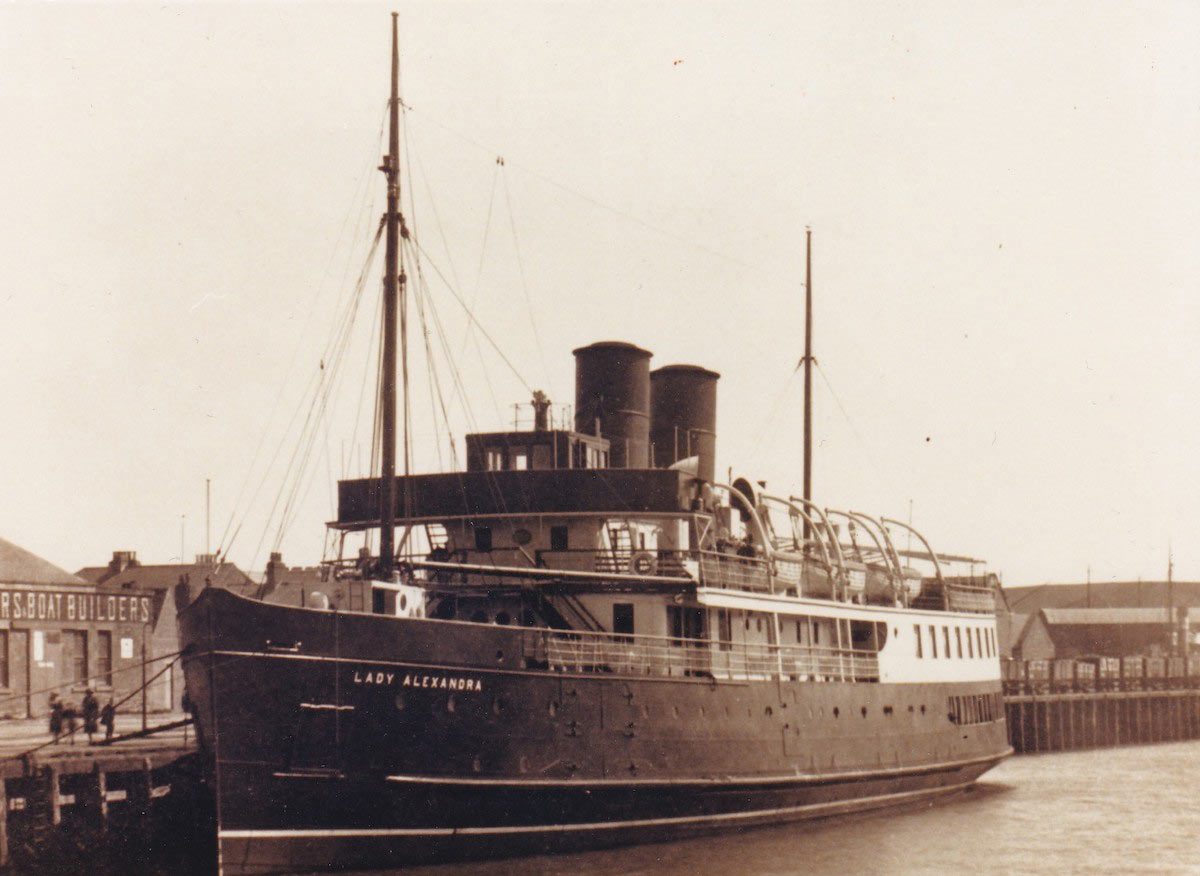 December 19, 2022
Remembering the "Lady Alex"
The Lady Alexandra or rather Lady Alex as she was familiarly known to many residents of British Columbia, was completed by the Coaster Construction Company on Rossie Island, Montrose in the early 1920s to the order of the Union Steamship Company of Vancouver, Canada. She was launched on February, 1924 with her construction having commenced the previous October.
She was designed for routes between her home port and Bowen Island and Howe Sound. Her dimensions were 225 feet in length, with a 40-foot beam and measured 1,396-ton deadweight. Her propulsion consisted of two triple-expansion steam engines giving a service speed of 14 knots.
She was primarily a day excursion steamer having only ten berths in six state rooms. Licensed to carry 1,400 passengers, in operation she was thought to carry nearly 2,000. She had three decks, a dining room to seat 90 persons and a hardwood dance floor. Although she had a cargo hold with a capacity to accommodate 300 tons of freight she normally carried only around 100.
The local "Review" newspaper reported on progress during her being fitted out after launching as, "Berthed in the Montrose (Wet) Dock approaching completion externally she presents a handsome appearance with two funnels painted a vivid red with black tops, an array of boats and deck seats as viewed from the pier gives the vessel a smart and business-like appearance."
The ship had an unusual beginning as the Coaster Construction gained the contract with the Union Steamship Company for a two-funnelled excursion steamer, the result being the Lady Alexandra. The hull was newly built but the machinery came from a World War One minesweeper HMS Cheam.
On completion, the ship sailed to her new home reaching Vancouver via the Panama Canal on June 21st, 1924 having left Scottish waters after trials on May 7th. Four days after she arrived she took part in an excursion to view the battle cruiser HMS Hood then on a courtesy visit to Vancouver.
After lengthy and popular service business fell away in the early 1950s. Following the 1953 season she was withdrawn from service altogether. In 1960 she was converted to a floating restaurant, firstly at Coal Harbour in her home port than later towed to Redondo Beach in California but was subsequently wrecked when a tropical typhoon ripped in from the Pacific in 1980. Considered to be a constructive total loss, she was towed out sea and sunk as a submerged offshore reef.
A member of the McLaren family who were involved in her construction on Rossie Island wrote in 1985, "We contracted to build a series of five supply vessels for International Offshore Services Ltd. London. The IOS fleet were all named with the pre-fix "Lady". I asked that one of the vessels be named Lady Alexandra, in memory of the most popular excursion steamer that sailed out of Vancouver. In October, 1974 my mother launched Lady Alexandra. When we launched this second Lady Alexandra it was almost 50 years to the day that the Coaster Construction Company launched her predecessor on Rossie Island. Strange world, my father builds a ship in Montrose for Vancouver now a Lady Alexandra is based in Dundee."
Some years later when re-named Alexandra Tide, the Canadian-built ship did actually visit Montrose.