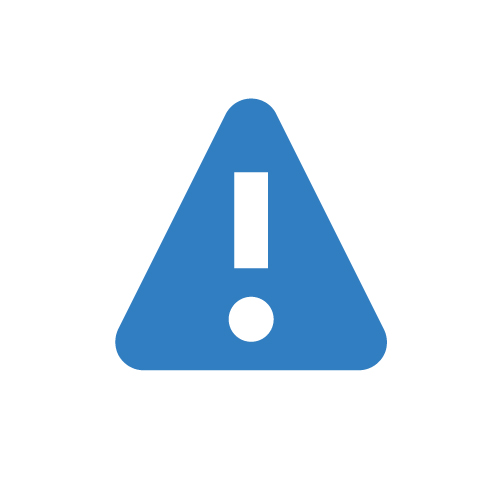 January 19, 2023
NOTICE TO MARINERS FROM SHEPD

NOTICE TO MARINERS: Vessels & General Safety Advice
Scottish Hydro Electric Power Distribution (SHEPD)
Marine & Freshwater Subsea Inspections -2023
Date 19/01/2023
PROJECT OVERVIEW
Please be advised that Aspect Land & Hydrographic Surveys Ltd (on behalf of SHEPD) will be undertaking subsea and freshwater inspections of several cables within a defined corridor. Please refer to Figure 1 that highlights the cable location.

Given the different conditions and water depths anticipated at each site, a range of vessels will be utilized across the project, detailed overleaf.

The inspection works will be centred on a SOm cable corridor, defined by the start and end coordinates listed in Table 1.

Survey operations in this location is expected to commence in January 2023, with the start date and anticipated duration listed against the individual location overleaf. Start dates are subject to change due to weather.

LOCATION DETAILS
Cable location and indicative survey corridors are noted below for information. Equipment calibration operations may take place out with the defined corridor and these areas will be chosen so as not to interfere with fishing/ marine traffic activity.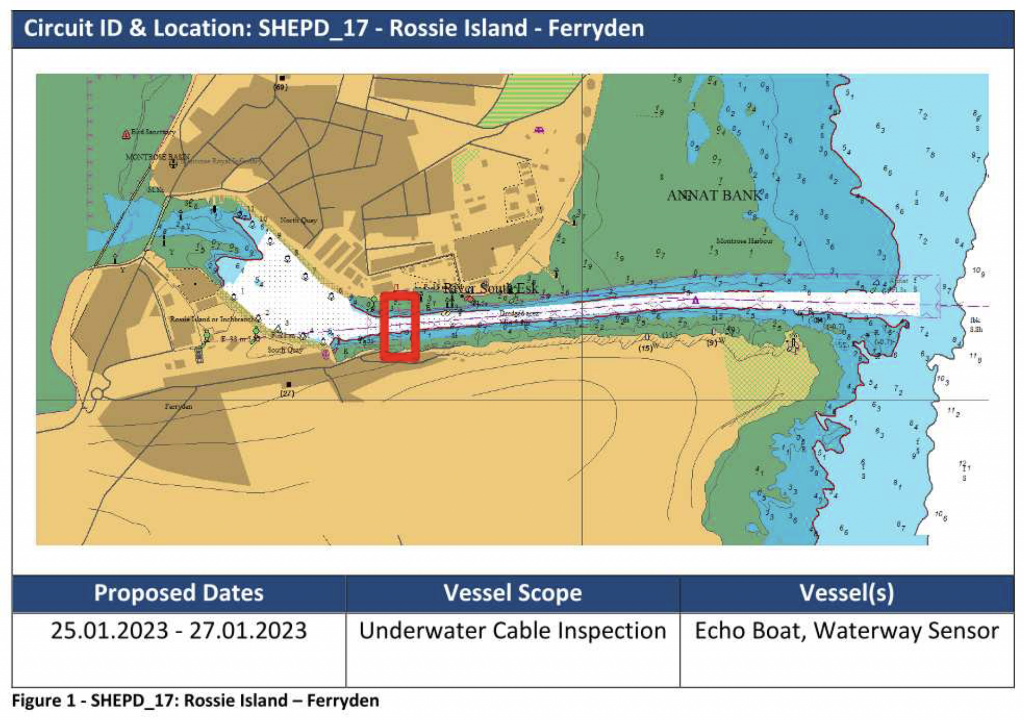 VESSEL DETAILS
All vessels to be used during the survey and inspection campaign are owned and operated by Aspect Land & Hydrographic Surveys Ltd. Operations will be limited to daylight hours only.

The vessels conducting these inspections will be restricted in their ability to manoeuvre and will display the appropriate lights and shapes. Other vessels are requested to pass at a safe speed and provide a minimum clearance of 500m (COLREGs Rule 16 & 18) during marine operations.

All vessels will monitor VHF Channel 16 throughout survey operations. Mobile contacts for the vessels are listed at the end of this NtM.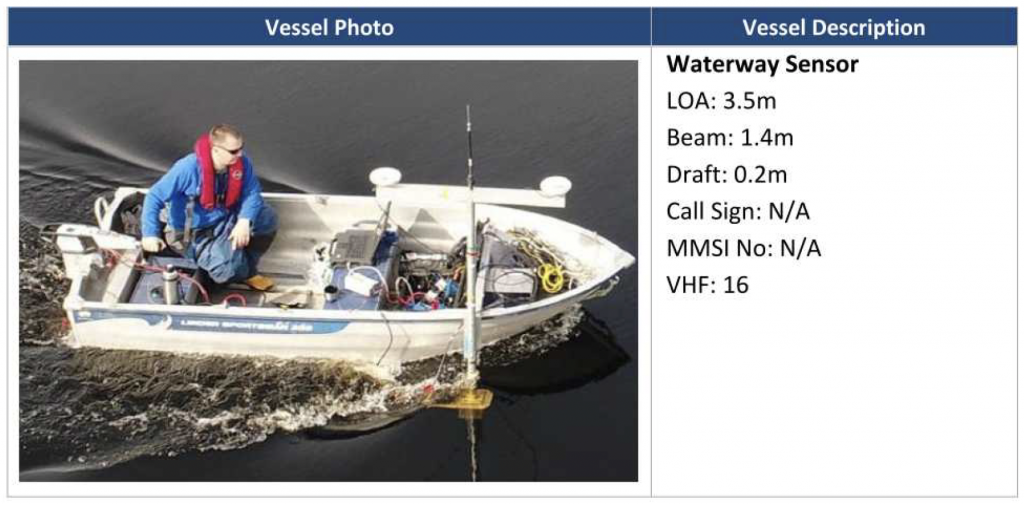 CONTACT DETAILS
Vessel management contact details are given in the table below.
| | | | |
| --- | --- | --- | --- |
| Name & Designation | Organisation | Contact Number | Email |
| Ross Anderson Project Manager | Aspect Land & Hydrographic Surveys | 01294 313 339 07917 875 545 | randerson@aspectsurveys.com |
| Andrew McCormick Fleet Manager | Aspect Land & Hydrographic Surveys | 01294 313 399 07796 171 320 | amccormick@aspectsurveys.com |
| Scott Norman HSE Coordinator | Aspect Land & Hydrographic Surveys | 01294 313 399 07516 801 268 | snorman@aspectsurveys.com |
| Craig Stephenson Technical Manager | Aspect Land & Hydrographic Surveys | 01294 313 399 07780 977 568 | cstephenson@aspectsurveys.com |
| General Office | Aspect Land & Hydrographic Surveys | 01294 313 399 | mail@aspectsurveys.com |
FISHING LIAISON OFFICERS (FLOS)
Fishing liaison for the work is being coordinated by Brown and May Marine (BMM). For any commercial fishery queries please contact the Company Fishing Liaison Officer (CFLO) Alex Winrow-Giffin on 07760 160039 / 01379 872144, alex@brownmay.com.

The Shetland Fishermen's Association (01595 693197) are a key fisheries contact for any activity in the area. For all other cable routes, the local Fishing Industries Representative (FIR) William Watt (07897 691860, willie.w@brownmay.com) will also be in place to liaise with vessels and fishing operations.

LEGAL NOTICE
Please be advised that this Notice to Mariners should be treated as official notice of the nature, duration and location of the works which are scheduled to take place. During the period of this notice, we request that you plan your activities around our short-term, temporary activities.

Any failure to remove equipment or entry into the identified location in a manner that would constitute a hazard would be a breach of your duties of safe seamanship as described in the Convention on International Regulations for Preventing Collisions at Sea 1972 and/or the Merchant Shipping Act 1995.
DISTRIBUTION LIST
The Distribution List of the Notice to Mariners is as per the stakeholder list in the SHEPD Fisheries Liaison and Management Action Plan (FLMAP).

19th January 2023
MONTROSE PORT AUTHORITY, HARBOUR OFFICE, SOUTH QUAY, FERRYDEN, MONTROSE, DD10 9SL