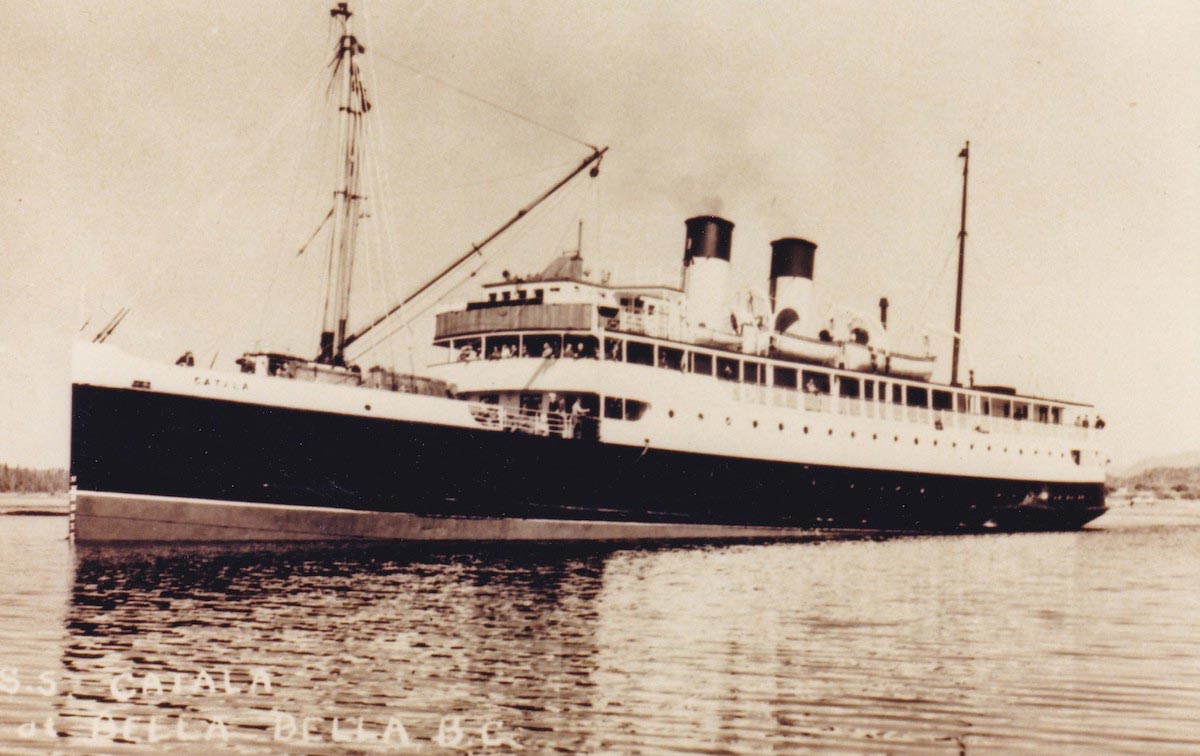 March 2, 2023
Double Naming Ceremony
"An unique occasion in the history of Montrose as a shipbuilding centre was fittingly marked on Tuesday 25th February, 1925 and aroused great popular interest in the Burgh, when the naming of two passenger steamers built by the Coaster Construction Company for the Union Steamship Company of Vancouver, British Columbia was performed in the presence of a large company in the yard at Rossie Island and Montrose Wharf," reported the Review.
The local newspaper continued, "Mrs J H Welsford, wife of the President of the owners performed the naming ceremony in connection with the launching of the s.s. Catala as the vessel glided into the water amidst the cheers of a large crowd of townspeople and visitors. The Catala is to be fitted up as a passenger vessel from Vancouver up the coast as far as Alaska."
Catala entered the local record books that day as the largest ship built at Montrose. She was 229 feet overall and measured 1,476-tons gross. Her draught was given as 12 feet with a turn of speed calculated at 14 knots. Propelling machinery was provided by Messrs. Campbell & Calderwood Ltd. of Paisley and consisted of two sets of triple-expansion oil-fired steam engines.
The launch was described as possibly the finest that has been witnessed from the Rossie Island yard. There was no hitch of any kind. "She arose in the river for the cross-over to her berth on the Montrose side." was one comment made in the newspaper report. She was fitted with sleeping cabins and saloon accommodation for her longer voyages up the Pacific coast to Prince Rupert and Stewart, Alaska.
Catala was known as a fine cruise ship with a circular promenade deck. She was taken over in 1959 by Northland and later purchased by Nelson Brothers Fisheries. After that she was used as a hotel ship during the Seattle Centenary Exposition 21 and subsequently moored at Gray's Harbour but eventually wrecked as the result of a severe storm in 1965.
Several hours earlier on the same day, another ceremony had taken place aboard the Lady Cecilia, one of two day-steamers under conversion at another part of the Coaster Construction yard where a company of over 100 invited guests had assembled and tea was served followed by a cake and wine banquet.
Lady Rushton, wife of Sir Arnold Rushton, ex-Lord Mayor of Liverpool, performed the naming ceremony of the Lady Cecilia by cutting the red, white and blue ribbons suspended from the bridge of the vessel. The ships were completed under the survey of the British Corporation and the Board of Trade. Lady Cecilia had previously been a Royal Navy "Town-class" World War One minesweeper HMS Swindon, but had not seen active service. More about her and "sister" ship Lady Cynthia later.