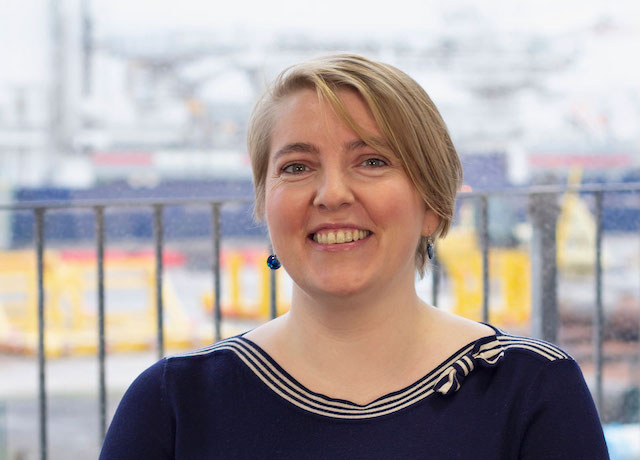 March 8, 2023
Montrose Port board member leading the way for women in renewables and STEM
One of Montrose Port Authority's newest members to its Board of Non-executive Directors is spurring on young women to consider careers in STEM and renewable energy, particularly with the offshore wind industry growing right off the Montrose coast.
Eilidh Smith, an Unlimited Master Mariner who came ashore in 2015, joined the Montrose Port Authority Board in October 2022 and is the Marine Assurance Manager for Offshore Operations & Maintenance at ScottishPower Renewables: "I'm in charge of looking after all the vessels for offshore wind operations and maintenance globally at our company. Currently this is for two offshore wind sites but we do have many emerging projects all over the world."
The energy sector as a whole, like many other STEM areas, is viewed as male dominated and this is starting to be seen in the renewable sector. According to an International Renewable Energy Agency (IRENA) report, women account for 32% of the renewable energy workforce globally with 45% of that in administrative roles and only 28% in STEM roles.
"The role I'm in didn't exist at ScottishPower Renewables before I started so I'm making it my own," notes Eilidh. "The offshore wind industry is young and so I'm absolutely loving being here at the start of it. The decisions I make today are shaping the future so it is a big responsibility.
"This is why I would absolutely encourage girls and young women to get into STEM roles and renewable careers. Women need to be involved in the beginning of industry. It's important to get women into the mix in these emerging industries as our expertise and perspectives adds to the diverse talent pool to pull from in order to enable the energy transition.
"To any young women who are thinking about a career in renewables, I would tell them to go for it. At Scottish Power, we are putting through a record number of apprenticeships in the industry in all areas such as research development, operations and maintenance. We are trying to create as many opportunities as possible but I also encourage these young women to come and knock on our door. We want to get them going making turbines, advancing technologies, going offshore on vessels and lots of other STEM roles."
Being born and bred on the Isle of Lewis, Eilidh was always accustomed to being around boats: "You're only 10 minutes away from the beach wherever you are on the island and all the men in my family were at sea in various industries. We were always on a boat or a dinghy growing up and the ferry was our main access to the mainland so there has always been a boat of some form in my life."
Joining the board was also not Eilidh's first time in dealing with Montrose: "I had visited Montrose many times in my mariner days. It was always my preferred port from a sailor's point of view. You could go in and you would just be there until it was time to go away again. At other ports, you would have to move your vessel or sometimes couldn't even get in at all – life on a boat was a lot less stressful in Montrose which I liked.
"After my seafaring years in general cargo, offshore energy and with the Northern Lighthouse Board, I worked as a marine consultant so I visited Montrose often with clients and I also became the designated person for Montrose under the Port Marine Safety Code, conducting their external audits."
When asked about what her time has been like so far on the Montrose Port board, Eilidh said: "It's been really exciting, one of the first things we did as a board when I joined was agree to the Plug Montrose joint venture which will see Montrose become one of the first ports in Scotland to offer shore power to vessels working in the energy industry. This facility is expected to be completed and in operation in around nine months' time and will see vessels plug into the grid, turning off their engines when at berth.
"Decarbonising our industry is one of the main things we have been looking at within Scottish Power. Once the offshore wind turbines are manufactured, the most carbon in our industry comes from vessel emissions so being able to be a part of fixing that right at the beginning of my time on the Montrose Port Board is fantastic.
"They are a proactive team at Montrose. It's all very well saying you are going to do something but it's another when you actually put investment behind it and do it so it's great to see that happen at Montrose."