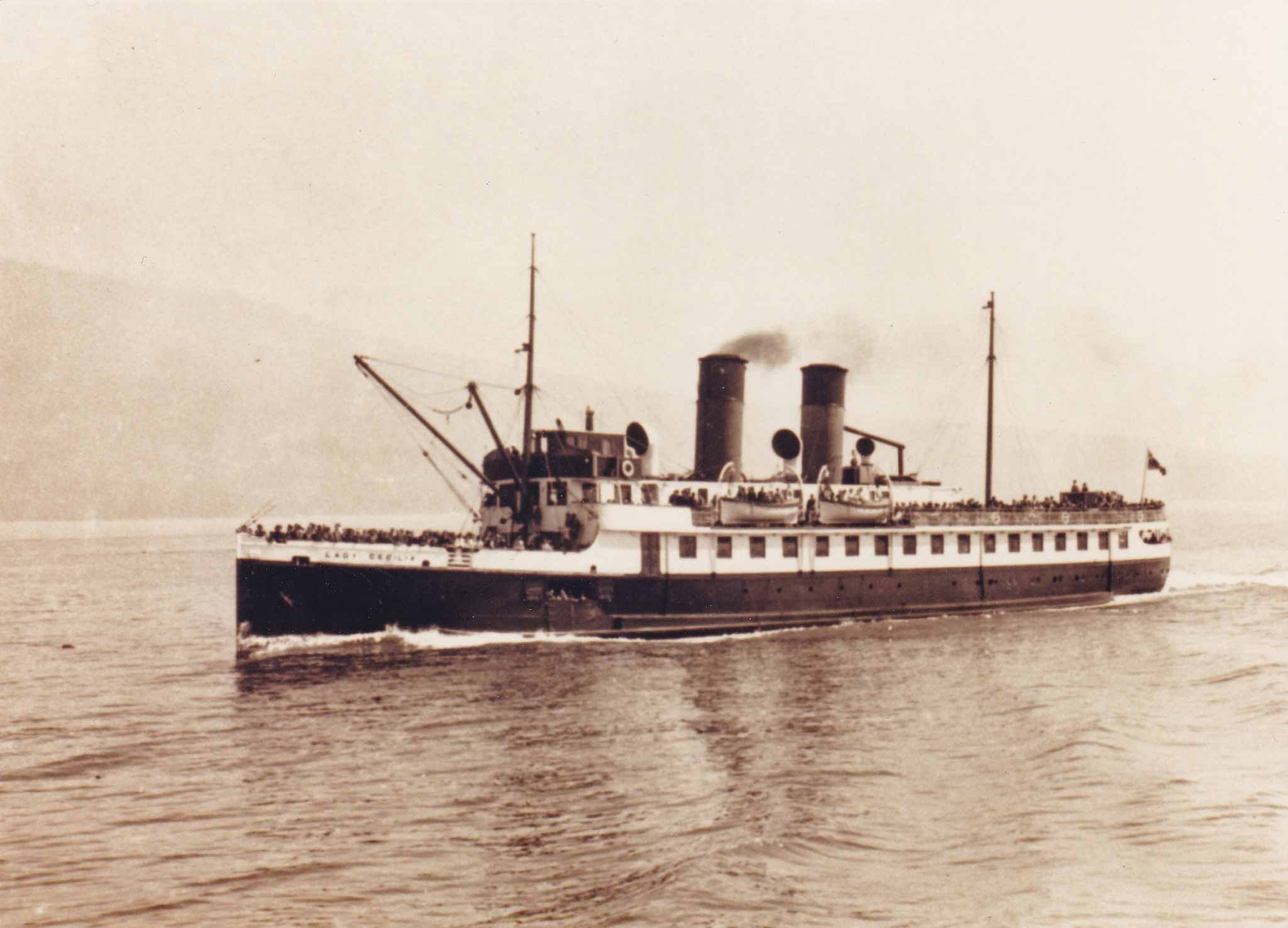 May 31, 2023
THEY TURNED SWORDS INTO PLOUGHSHARES
At the naming of a passenger day steamer converted from a World War One minesweeper, the main speaker at the ceremony quoted the Biblical phrase describing the ship Lady Cynthia and her "sister" Lady Cecilia, as having, "turned swords into ploughshares." It was felt the saying to be appropriate as both vessels had been built and completed in 1919 as twin-screw minesweepers of the "Town" class, namely HMS Barnstaple and HMS Swindon. They were products of Ardrossan Dockyard Ltd. with Yard Numbers 298 and 299.
Finished too late to serve the purpose for which they had originally been designed, it was decided to sell them off and convert them into passenger day steamers. They were completely refitted at the yard of the Coaster Construction Co. Ltd. on Rossie Island, Montrose for the coastal services of the Union Steamship Company of British Columbia Ltd.
In order to provide the largest possible space for the accommodation of passengers and at the same time to give full protection to the vessels, which in service, called at a large number of ports where some of them had awkwardly situated landing stages, an unusual type of sponson was fitted on the sides of the ships.
The Lady Cynthia, the last of the Union Company's day steamers to retire, served on the British Columbia coast from 1925-55. Her career was somewhat blemished by a reputation for ramming and sinking other ships, with this habit probably befitting her Admiralty origins.
Lady Cynthia was "born" out of HMS Barnstaple in 1924-25 while Lady Cecilia was converted from HMS Swindon around the same period. Both ships were 949-ton gross with a length of 219 feet. The former vessel was fitted with twin Ross & Duncan triple expansion engines and two boilers manufactured by Galloways Ltd. of Manchester.
In summer of 1925 Lady Cynthia sailed from Montrose to Canada via the Panama Canal and on 20th August arrived at the Union Pier in Vancouver where she was greeted by the clamour of whistles and bells from ships and factories.
During the summer months, ports of call included Bowen Island, Anvil Island, Porteau, Britannia, Woodfibre and Squamish etc. among other landings serviced by her "sister" ship. Casualties during her 30-year career included collisions with Cowichan, Princeton No.1, A. L. Bryant and Dola – all different types of vessel.
In 1955 all sailings were cancelled during July and August due to a labour dispute and Lady Cynthia never sailed again. Her withdrawal coincided with the building of a railway along the coast, an area that had depended on her for service. She was partially dismantled alongside the Union Pier and on 5th October 1957, her remains were towed to Glazer & Sternoff Metals of Seattle where she was finally scrapped.