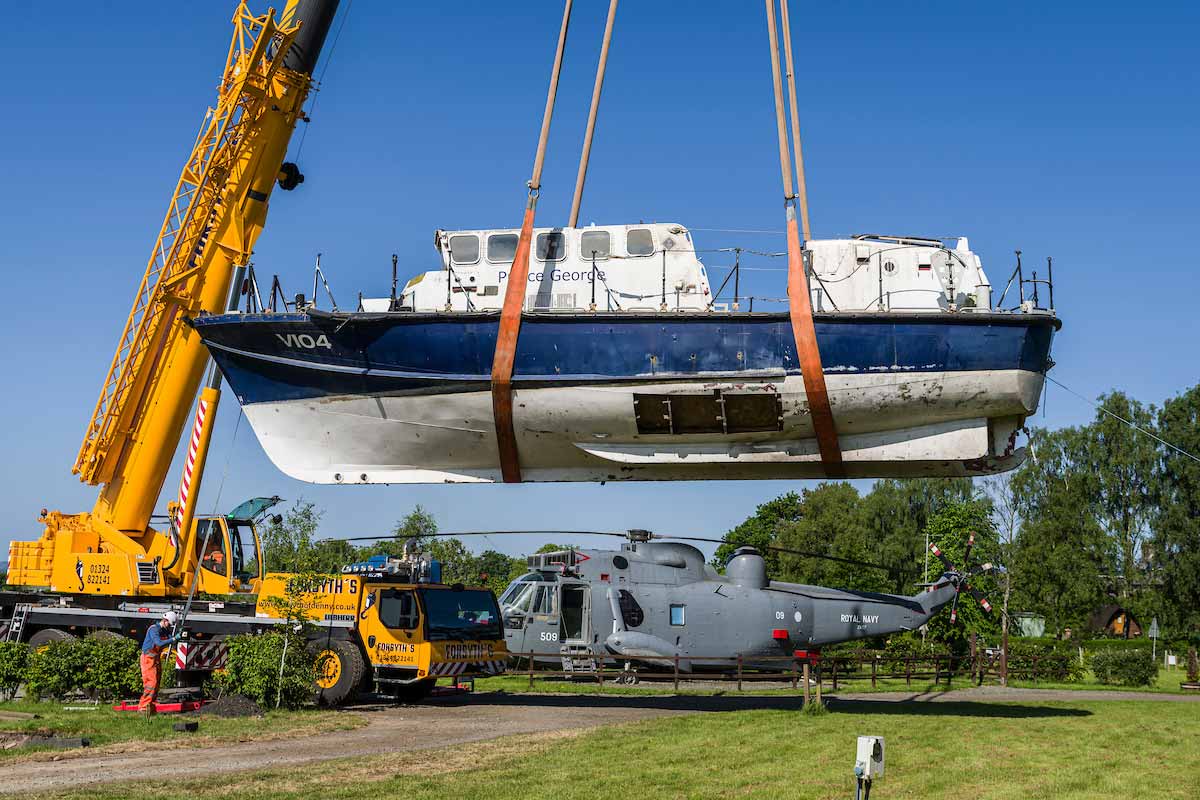 May 31, 2023
Lifeboat to become glamping pod after being saved from scrapheap
A former RNLI lifeboat has been saved from the scrapheap by a Stirlingshire farmer.
Farmer Martyn Steedman, attracted international interest with his family's conversion of a retired Royal Navy Sea King Helicopter in 2016, offered the ageing lifeboat a new lease of life on his campsite in Thornhill, Stirlingshire where she'll be transformed into a glamping pod.

The 26-tonne Tyne Class vessel made her final journey on Tuesday 30th May, when she was transported from Montrose Port to Mains Farm, Thornhill and craned into position alongside the helicopter. She was carefully lowered into a large hole, positioned as she would be in the water, looking out over the horizon.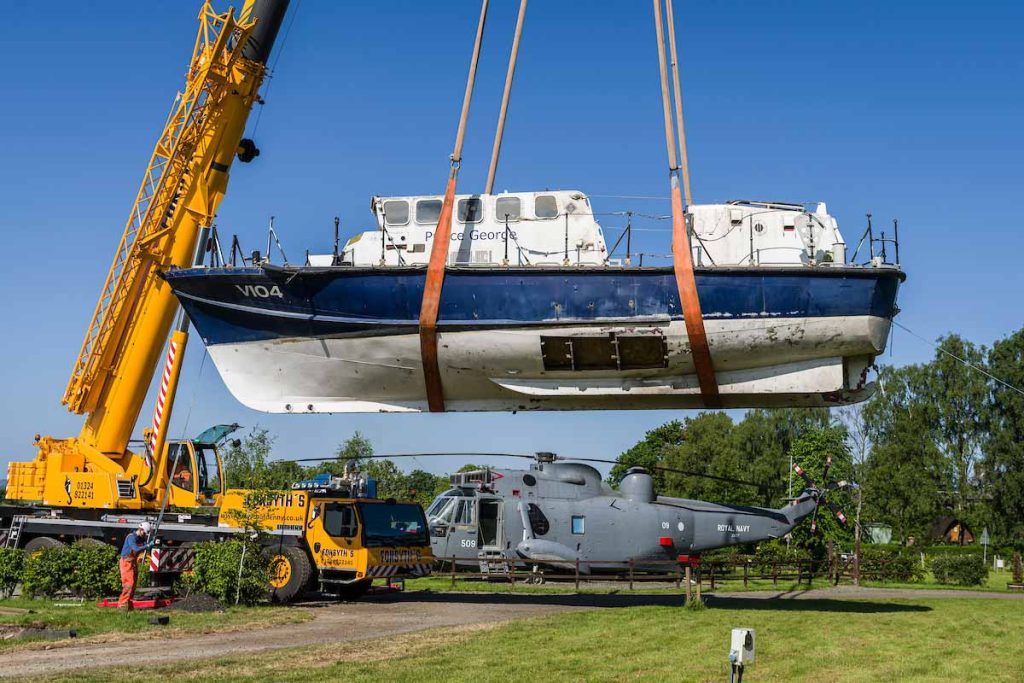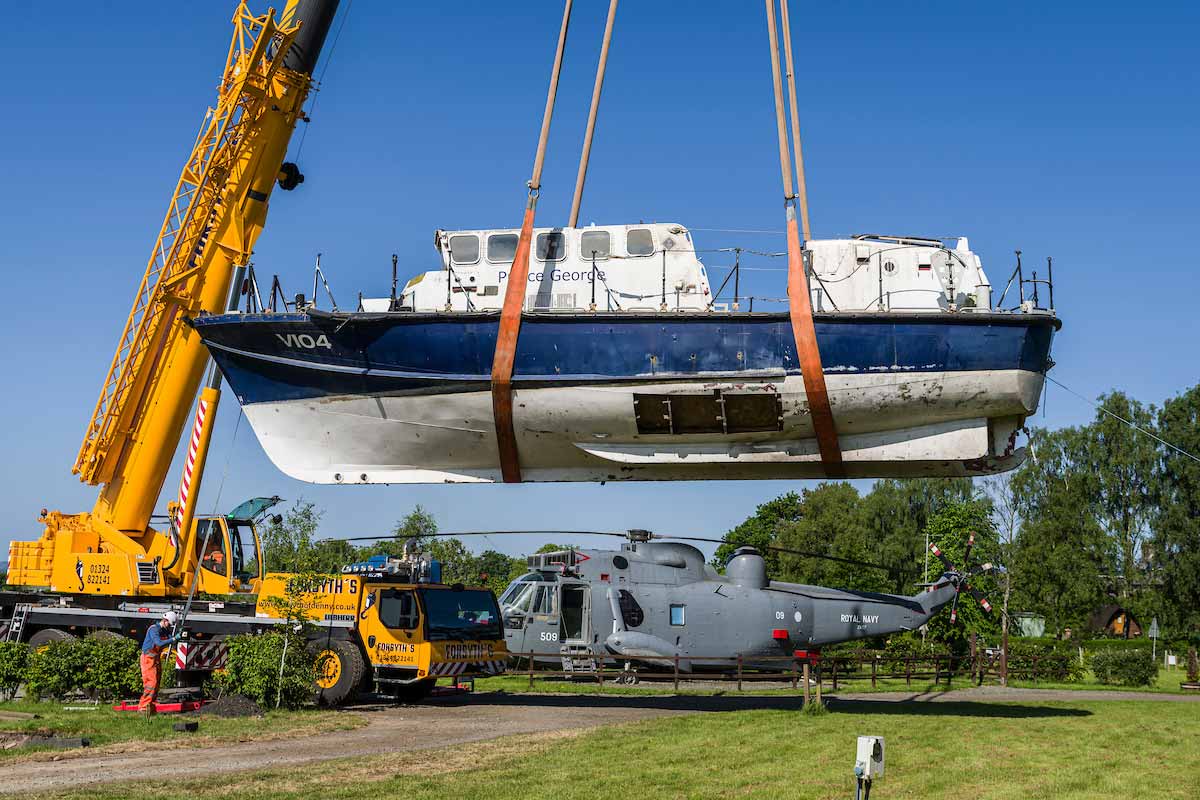 Martyn said: "We answered a plea from retired RNLI coxswain and mechanic David Buchan to save her from the scrap heap. David had read about our Royal Navy Sea King conversion and hoped we could give the lifeboat a new purpose. At 14 metres long and nearly five metres wide, she offers great glamping potential and will be a great addition to our agritourism business."

He added: "We're delighted to be given the chance to preserve her for future generations and are keen to use the project to highlight the lifesaving work of the RNLI. One of our first tasks will be to restore her paintwork to the iconic blue and orange!"
While in service, the lifeboat, formerly known as the Owen and Anne Aisher and now known Prince George, took part in several notable missions including coming to the aid of the 150-tonne trawler Ross Alcedo, which got into difficulties and almost ran aground off Corbiere, Jersey, after losing power in rough seas in January 1994.
The lifeboat reached the trawler in minutes and managed to get a line attached, before towing her back to St Helier.
The Owen and Anne Aisher also played a vital role in preventing a pollution disaster on the Welsh coast, inspecting the 1,500 tonne oil tanker Blackfriars for signs of pollution after another lifeboat managed to pull it off a beach near Marloes, Milford Haven, Pembrokeshire, when it was swept ashore in gale force winds on Christmas Eve 1999.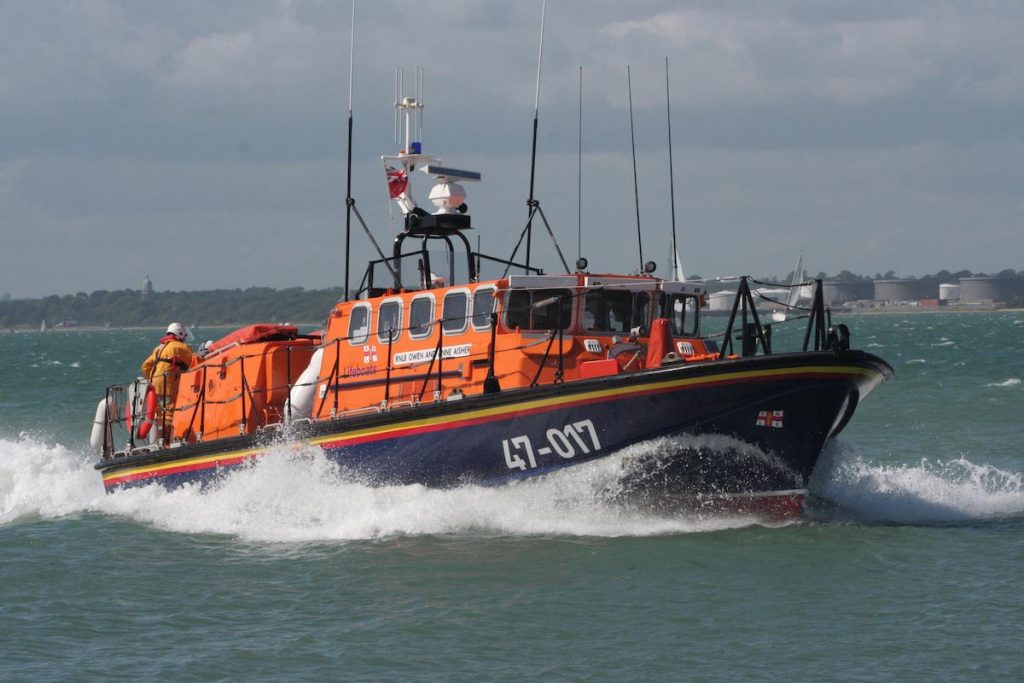 David Buchan explained: "Although I'm now retired, I'm still involved with the RNLI as a volunteer at Fraserburgh RNLI Lifeboat Station. Having started my career on a Tyne Class, I have a great fondness for these vessels and wanted to find the old girl a nice retirement home.

"47-017 Owen and Anne Aisher, now known as Prince George, was one of the last of her kind. Launched in 1988, she served as a lifeboat for 24 years. While we don't know her whole history since she retired, we believe she suffered irreparable damage to her hull after toppling off the blocks supporting her onshore when she was based in the Thames."

With the original build cost in the region of £500,000, the lifeboat would have been deemed an insurance right off and was sold off for parts in 2013. The now 35-year-old vessel went on to serve as a donor for pilot boats in the Port of Montrose.

Ross Marshall, Harbour Master of Montrose Port Authority, said: "Over the past 6 years, Prince George has had a vital role in the maintenance of our pilot boat fleet. With sustainability being a key focus for the team here at Montrose, it was important to us to see if she could be repurposed in our efforts to contribute to the circular economy.

"We are glad to see her gain a new lease of life at Thornhill and know that she will highlight the fantastic work that the RNLI does here at our port and around the UK."

With the helicopter conversion attracting international interest, the RNLI hope the transformation of the lifeboat will help raise awareness of the charity's life saving work as it celebrates nearly 200 years of saving lives at sea.

RNLI spokesperson Natasha Bennett said: "This exciting renovation of one of our former lifeboats is a great opportunity for people to experience being on board, but without having to be rescued first."

She added: "We hope that this unique experience will inspire glamping guests to help us continue our vital lifesaving work by making a donation to the RNLI."