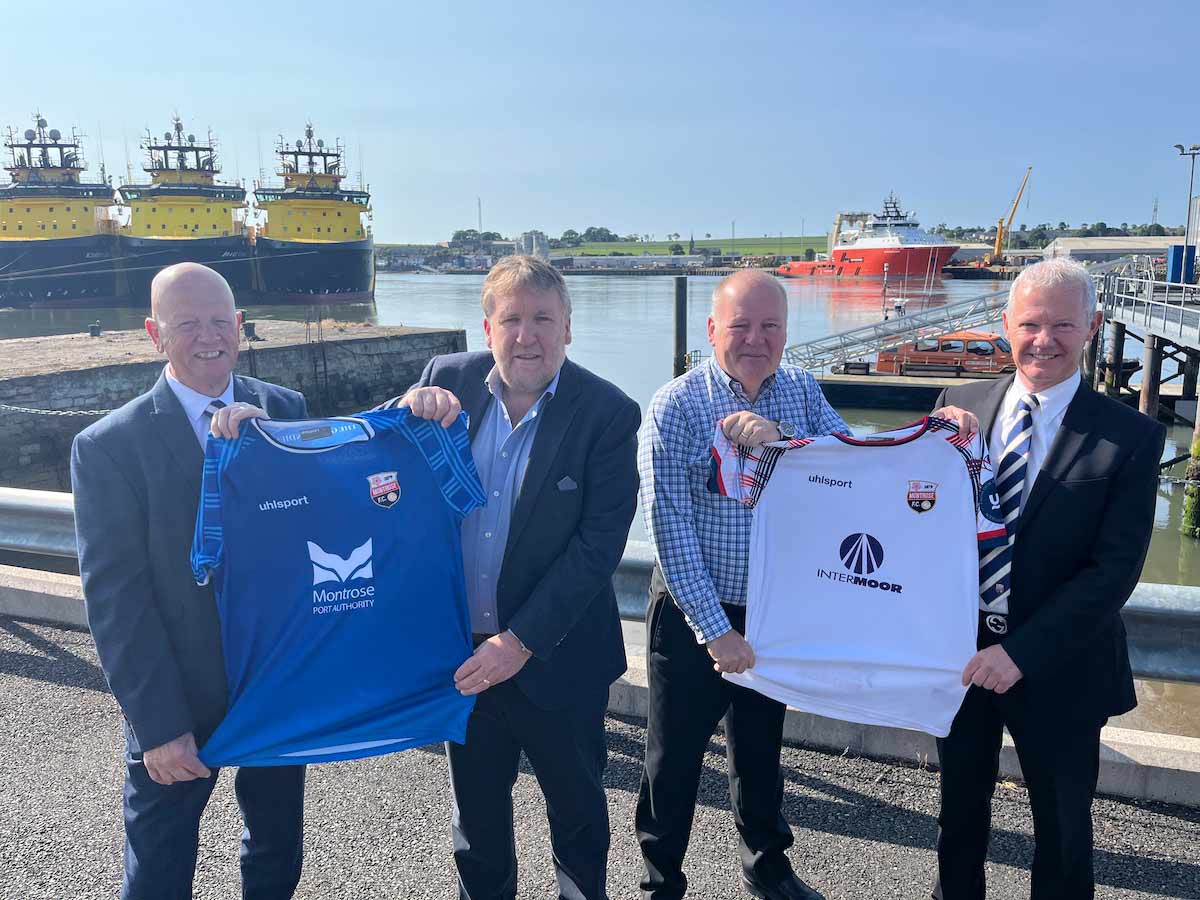 June 23, 2023
Montrose Port announced as home kit front-of-shirt sponsor for Montrose FC
Montrose FC have unveiled their completely new look home and away kits for the forthcoming season, both of which have been uniquely designed especially for the Club as part of a new kit deal with the Uhlsport brand via RJM Sports Ltd, one of the main independent sports retailers in the UK.
Chief Executive Peter Stuart said, "We are delighted to finally share these new strips with our fans. We have been working hard with RJM Sports over the last few weeks to finalise what is our most lucrative kit deal ever, and I hope the supporters are as excited as we are to get their hands on the new range of kit, leisurewear and merchandise.
"It is great we have been able to create a unique, bespoke design for the new strips, again a first for the Club and we look forward to developing our relationship with Robert and Grant at RJM over the coming years.
"We are also delighted to be unveiling at the same time our new home and away front-of-shirt sponsors in the form of Montrose Port Authority and InterMoor. I would like to personally thank Tom and Alan for increasing their level of sponsorship and involvement with the Club and we will formally announce details of further kit sponsor deals in the coming days."
Port Chief Exec, Captain Tom Hutchison commented, "We are thrilled to embark on this exciting journey as the front-of-shirt sponsor for Montrose FC's home kit. Our shared vision of making a positive impact in the community aligns perfectly, and we are delighted to support the team as they strive for success in the season ahead."
Alan Duncan, InterMoor Managing Director added, "We are delighted to be able to put something back into a community that support us so much in our day to day business. The town of Montrose and especially the Port have had a huge part to play in the success of our business and we strongly believe in supporting locally where we can. Supporting the football club by becoming the away kit front-of-shirt sponsor is just adding to what we already do within the community."
RJM Sports Director, Robert Marshall said, "We are delighted to welcome Montrose FC as the newest member of the RJM Sports family. In the last few months, we have been working tirelessly with the Club to put a comprehensive kit deal in place for the next 4 seasons which will include bespoke home and away tops with the quality, progressive German brand, Uhlsport.
"At RJM Sports, we pride ourselves on the relationships we create with our partner clubs and we are excited and very much looking forward to building our relationship with the club and its loyal fan base.
Full details on how fans can get their hands on the new merchandise will be announced soon.