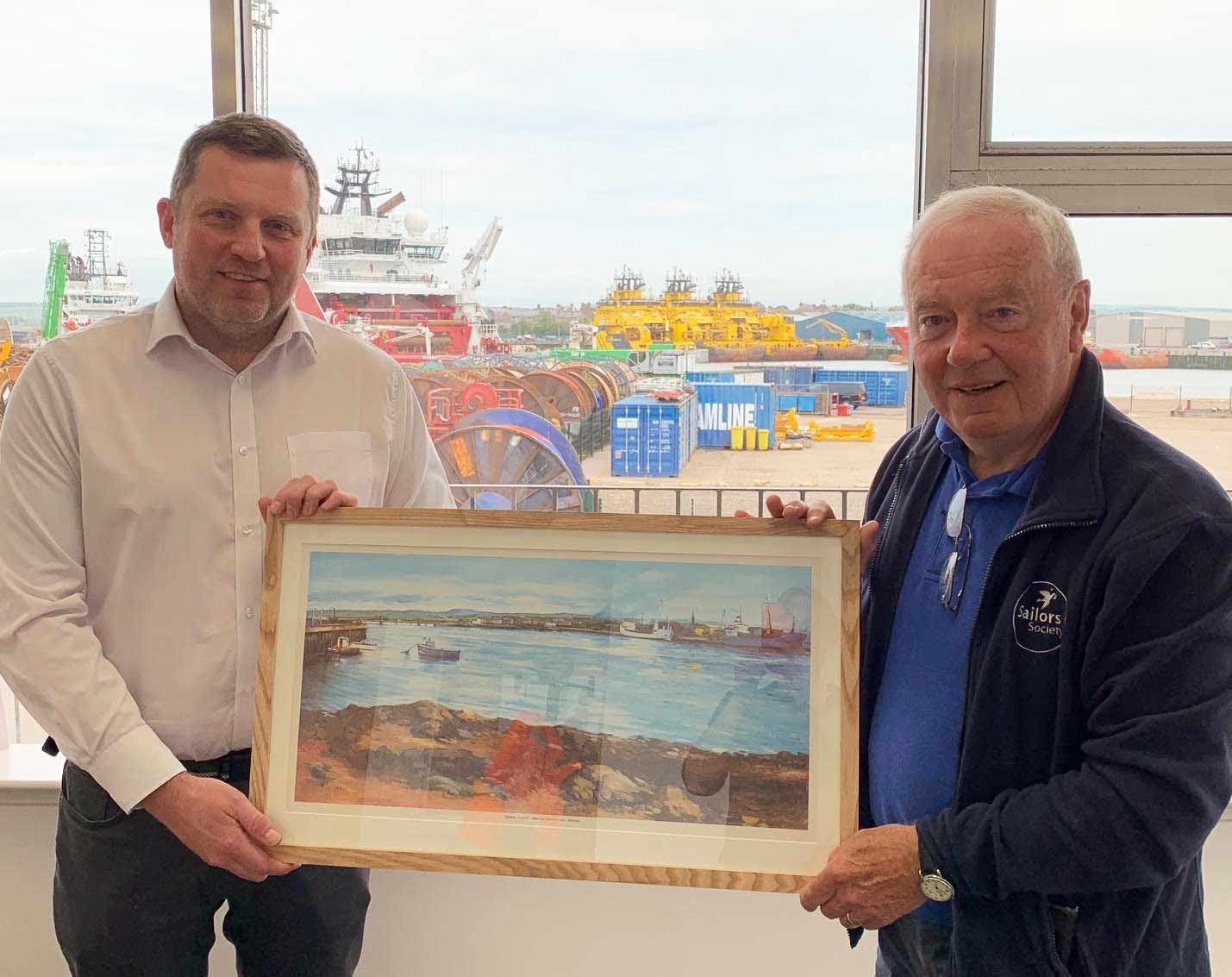 June 26, 2023
Port chaplain retires after 18 years of service
After an impressive 18-year tenure at Montrose Port, Peter Donald, the port chaplain representing the Sailors' Society, has retired this week. The Sailors' Society is an organisation dedicated to providing assistance to seafarers and their families globally.
Peter's unwavering dedication has made a remarkable impact on visiting vessel crews who are often at times very far from home and their families. He has offered a wide range of aid, from practical support to emotional solace.
Peter kindly answered some of our questions about his career at the Port:
1. How long have you worked at Montrose Port?
18 years – 9,424 ship visits ( not that I'm counting! )
2. When did you become the port chaplain and what did you do beforehand?
I previously worked as a Manager of the Arbroath Fisherman's Association for 20 years. I left secular employment in 2000 and entered christian work as a workplace chaplain in Angus. I was then invited to take on part-time port chaplaincy by the Sailors' Society in 2015.
3. What has been your favourite part about working at Montrose port?
My favourite part is meeting the amazing men and women who sacrifice their family life and home comforts to work on the world's oceans. I have encountered seafarers from over 90 different countries – it's been a real geography lesson! And very humbling to find that the majority can speak our language (that helps a lot!).
4. Do you have a particular memory from working at the port that you would like to share?
Hundreds, but one recent story made me feel that our service really is worthwhile. When the war began in March 2022, an anxious deck officer from Ukraine asked about finding shelter in the UK. I spent time with him to calm him a bit and gave him the application forms, then he promptly faded into my memory bank which was filling with similar stories.
His ship returned here in April this year and, to my surprise, he thanked me profusely for my assistance – he and his wife had gone through the process and had ended up with a Scottish home – in Montrose! He is home again at present and we arranged to meet up for coffee one day last week. They like it here and now hope that they can eventually get permanent residence. I love happy endings, but we seldom get to see the whole story.
5. Anything else you would like to mention?
It has been a joy to work in Montrose, with help and encouragement always forthcoming from the port staff, agents and contractors at the harbour and beyond. The seafarers often comment on the friendly and helpful attitude they encounter in the town and feel welcomed by the port in comparison to the treatment received at many other places.
We will miss having Peter on hand at the Montrose seafarer centre at our North Quay, always providing a friendly face and listening ear to visiting crew members.
All our staff and stakeholders would like to thank Peter for his outstanding contribution and we wish him a very happy retirement.