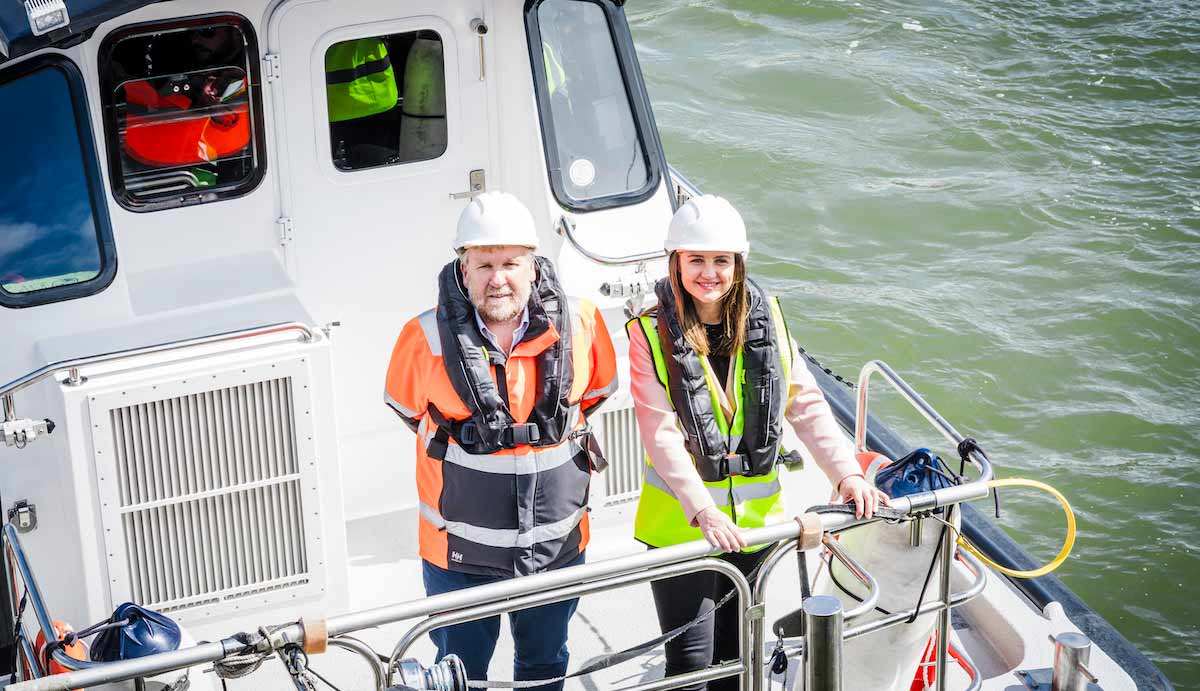 July 12, 2023
Montrose Port Welcome Net Zero Secretary Mairi McAllan
Montrose Port Authority welcomed Scotland's Cabinet Secretary for Transport, Net Zero and Just Transition Mairi McAllan MSP.
Ms McAllan was welcomed to the port by Chief Executive Captain Thomas Hutchison on Monday and received an overview of the thriving business, including recent investment of over £1 million to provide shore power infrastructure to the energy sector — a first for any Scottish port.
Central to the Cabinet Secretary's visit was exploring solutions to the challenges of coastal erosion at Montrose, with Angus Council's latest flood risk management plan highlighting 220 properties in the town at risk over the next 50 years — effects exacerbated by the impacts of climate change and more frequent extreme weather events.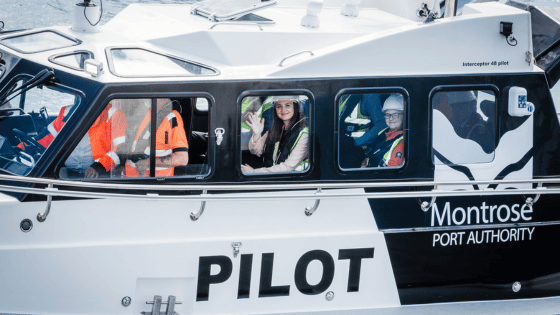 Between 40 and 60 metres of beachfront has already been eroded at Montrose since the early 1980s, with an imminent risk of 70 further metres of land being lost to the sea over the next 30 years if the current rate of erosion continues. These problems have been acutely felt already by Montrose Golf Links — the fifth oldest course in the world, and in use since 1562 — which has suffered significant loss and damage.
It is estimated that natural defences such as beaches and dune systems are protecting some £13 billion in built assets across Scotland, many of which are put at increased risk by climate change.
Montrose Port Authority has been described as a "case study of a business in energy transition" — having become Europe's largest chain and anchor base for the North Sea oil and gas industry but now servicing a burgeoning offshore wind sector, in particular as the chosen operations and maintenance base for both Inch Cape and Seagreen wind farms, with the latter set to be the largest in Scotland.
The Cabinet Secretary was able to see the impact of coastal erosion first hand from the harbour's new £800,000 purpose-built, fuel-efficient pilot boat 'The South Esk'.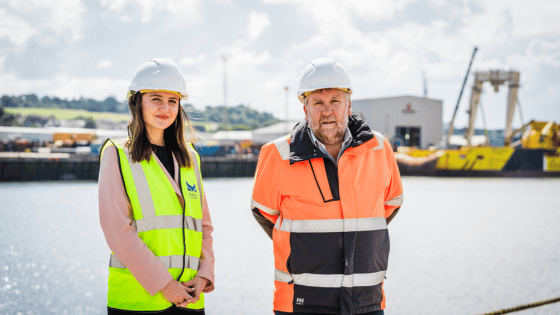 Commenting on the visit, Montrose Port Authority Chief Executive Captain Thomas Hutchison said:
"Tackling climate change, making communities resilient to its impacts and ensuring that we capitalise on the opportunities of energy transition will take a huge joint effort between business and government.
"In that spirit of partnership, we were very pleased to welcome Mairi McAllan to Montrose today to see the considerable investment we're making in decarbonising our own activities and the massive scale of the offshore wind operations which will be run from right here in Montrose.
"Net zero can often seem a slightly abstract ambition. For us, it's at the heart of what we do and there are huge opportunities ahead.
"But Montrose has major challenges too, right here on our doorstep — with the impact of coastal erosion, exacerbated by climate change, putting properties in this community at risk in the not-so-distant future.
"We thank the Cabinet Secretary for taking the time to listen to those concerns and we hope to work together with local and national government to find the most effective way forward.
"Montrose Port Authority is determined to play our part as we rise to the collective challenge of a just transition to a cleaner, greener future."
Cabinet Secretary for Net Zero Mairi McAllan said "We are already seeing our climate warming here in Scotland, with more extreme weather events and rising sea levels. As a nation we must adapt to these changes and prepare for the impacts of global climate change which are already locked in.
"Our natural resources, skilled offshore workforce, excellent port structure and strong innovation hub make Scotland one of the best places in the world to develop offshore wind and its supply chain. What is being done here in Montrose is clear evidence of that and I am grateful to Montrose Port Authority for the opportunity to visit.
"With the length of Scotland's coastline, coastal erosion is a threat we must take seriously. That is why the Scottish Government is investing £12m over the course of this Parliament to support coastal communities to prepare coastal adaptation plans and begin to implement them, and why we are committed to continuing to work with Angus Council, MPA and all stakeholders interested in the Montrose coastline."