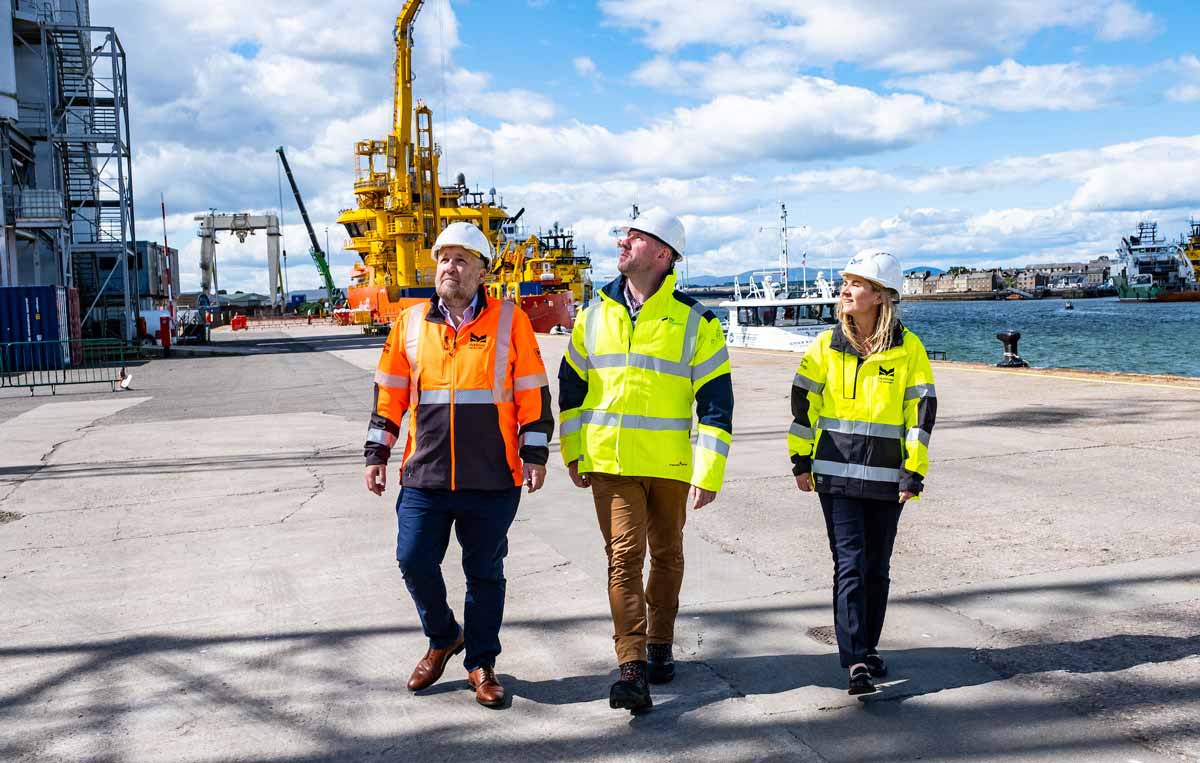 August 9, 2023
MPA sets out growing ambition as critical to Scotland's offshore wind sector to energy secretary
Montrose Port Authority (MPA) welcomed Neil Gray, Cabinet Secretary for Wellbeing Economy, Fair Work and Energy, on a visit to its site this week to receive an update on how the Port is continuing to build on its reputation as the major support, logistics and service hub for the North Sea energy sector.
Described as a "case study of a business in energy transition" having become Europe's largest chain and anchor base for the North Sea oil and gas industry, the Port has more recently taken a significant role in servicing a burgeoning offshore wind sector and is the chosen operations and maintenance base for both Inch Cape and Seagreen wind farms, with the latter set to be the largest in Scotland.
During a tour of the 59-acre facility, Tom Hutchison, CEO of Montrose Port Authority, gave Mr Gray an insight into recent developments at the Port, including the £1 million self-funded 50/50 partnership investment with Plug Shore Power Ltd which will make Montrose the first Scottish port to offer shore power to offshore energy vessels.
The plug facility is expected to be operational by the end of this year and provides an alternative energy source for vessels to use while they are berthed in port thereby reducing fuel emissions.
As part of his visit, the Cabinet Secretary also visited the Seagreen Operations and Maintenance base to tour the Marine Control Centre and also boarded a Crew Transfer Vessel for a visit to the Seagreen site where he heard more about the progress being made with construction works offshore.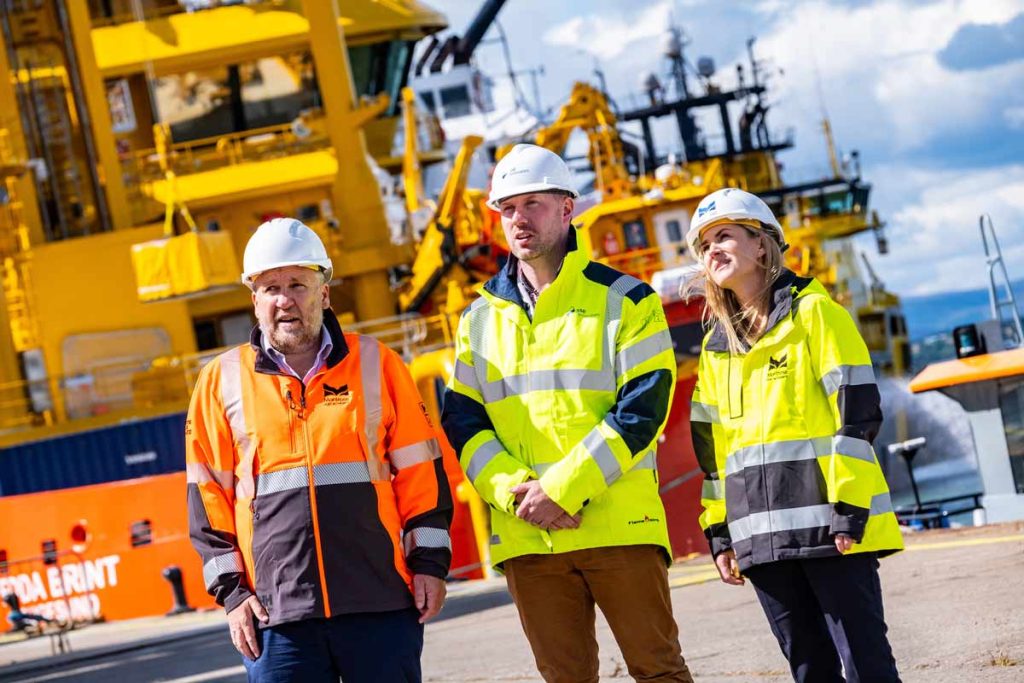 Energy Secretary Neil Gray said:
"Montrose Port can play a key role in Scotland's transition to a net zero economy by becoming a major support, logistics and service hub for the North Sea energy sector. This can support good quality green jobs and sustainable economic growth in Angus and beyond.
"It was a great pleasure to see this potential turned into reality at the Seagreen Wind Farm and meet those working on this key site for Scotland's energy security.
"Scotland is well-placed to make the most of the enormous opportunities that come from the just transition to create a fairer, greener future."
Tom Hutchison, CEO of Montrose Port Authority, said:
"The visit by the Cabinet Secretary has given us the opportunity to demonstrate the essential part Montrose is playing in Scotland's transition to Net Zero with 2.5GW of capacity being operated from Montrose Port now Seagreen has come online. The 25-year commitment to Montrose by the Seagreen joint venture will ensure ongoing investment and redevelopment of our existing facilities.
"Our reputation as an expanding O&M base continues to grow with our selection as the future operations and maintenance base for the Inch Cape offshore wind project making the Port one of the largest O&M bases for offshore wind energy globally. But this isn't the height of our ambitions. While the Port supports 400 jobs worth £45m to the regional economy, we are also focused on finding new opportunities to further support jobs and contribute to the economic growth of the Angus economy."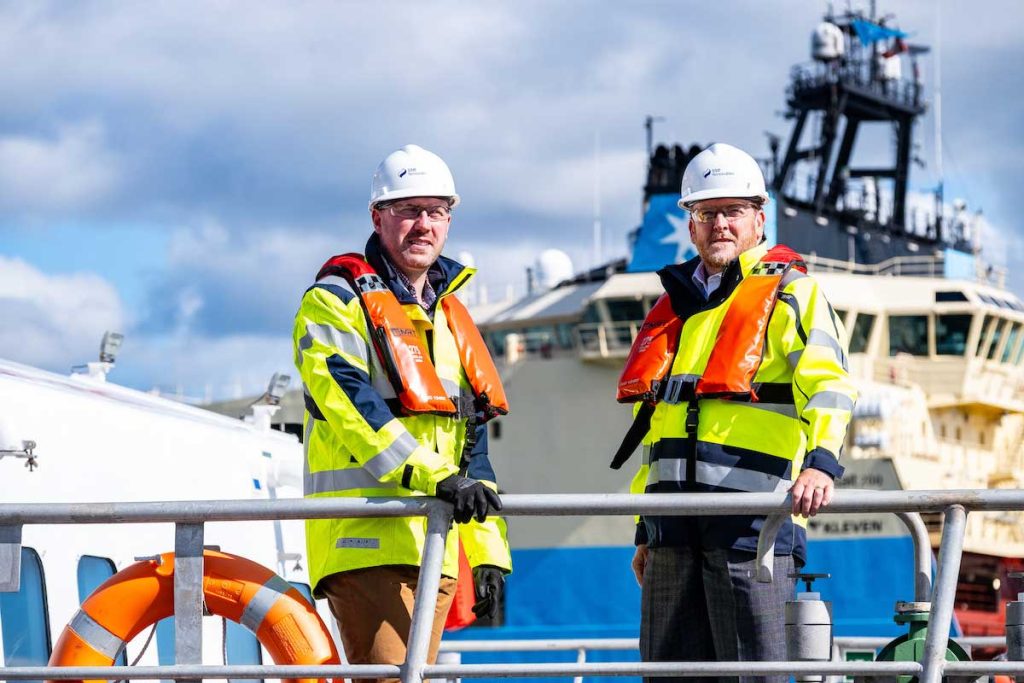 Paul Cooley, Director of Offshore, SSE Renewables, said:
"At SSE Renewables, we're delighted to have had the opportunity to demonstrate to the Cabinet Secretary how our supply chain strategy, which is built around generating local jobs and investment, is contributing to Montrose, both during the construction of Seagreen as well as throughout the operation of the offshore wind farm. Four years ago, we selected Montrose Port as our base location for Operations and Maintenance of Seagreen Offshore Wind Farm, and in the time since we've built a real and lasting partnership with local stakeholders and the community including Montrose Port Authority.
"Our Seagreen Operations and Maintenance base plays a vital role in the day-to-day running of Seagreen and is now also making an important contribution to the local Montrose economy. As we aim to deliver more offshore wind for Scotland through projects like Seagreen, Ossian and Berwick Bank, we appreciate the economic and social value that offshore wind can bring to local maritime communities in Scotland, and the contribution that local ports such as Montrose can play on our journey to a fair and just transition to net zero."