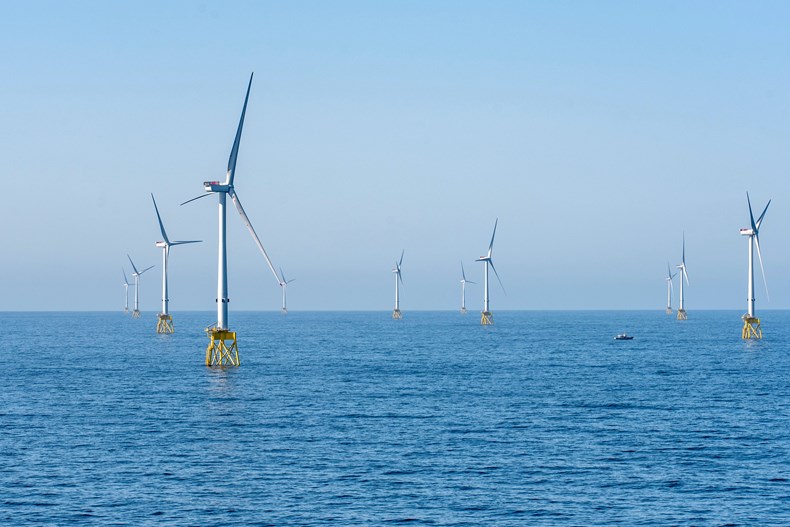 October 17, 2023
Scotland's largest offshore wind farm now fully operational
First Minister Humza Yousaf says Seagreen milestone takes Scotland a step closer to net zero
UK's newest offshore wind farm is generating enough renewable energy to power almost 1.6 million homes annually
Seagreen is now Scotland's largest and the world's deepest fixed-bottom offshore wind farm
17 October 2023: SSE Renewables, part of SSE plc, and its partner TotalEnergies have announced all 114 Vestas V164-10.0 MW turbines at the 1.1GW Seagreen Offshore Wind Farm off the coast of Scotland are now fully operational and are generating clean, renewable energy to Britain's power grid.
Situated 27km off the Angus coast in the North Sea's Firth of Forth, Seagreen is now Scotland's largest wind farm as well as the world's deepest fixed-bottom offshore wind farm, with its deepest foundation installed at a record 58.7 metres below sea level. Seagreen is operated from a dedicated onshore Operations and Maintenance Base at Montrose Port.
The 1,075MW project has the capacity to generate enough renewable electricity to power almost 1.6 million homes annually, equivalent to two-thirds of all Scottish homes. Seagreen also has the capability to displace over 2 million tonnes of carbon dioxide from electricity generated by fossil fuels every year – making a significant contribution to Scotland's net-zero ambition by 2045.
The news has been warmly welcomed by the Scottish and UK governments.
Scottish First Minister, Humza Yousaf, said: "The Seagreen offshore wind farm is a fantastic example of the work being done to unleash Scotland's renewable potential, as we seek to lead the world in the transition to net zero.
"This significant milestone for Seagreen is also significant for Scotland, taking us a step closer to creating a net zero energy system that delivers affordable, secure and clean energy.
"Delivering on our climate obligations is an absolute priority for the Scottish Government – so too is our unwavering commitment to a just transition for workers.

"We are determined to maximise the economic opportunity Scotland's offshore wind potential presents, by developing local supply chains, embedding innovation, boosting skills, creating jobs, and benefitting people and communities."
UK Energy Security Secretary Claire Coutinho said:
"Offshore wind is a resounding British success story and Seagreen becoming fully operational is yet more proof of our world-leading status.
"Not only has it become Scotland's largest offshore wind farm, but it also results in the UK having the world's five largest operational windfarms off its shores.
"Producing enough electricity to power the equivalent of 1.6million British homes, Seagreen will help deliver on our net zero ambitions and provide cheaper, cleaner, and more secure energy around the country."
Seagreen is a joint venture between TotalEnergies (51%) and SSE Renewables (49%) and was one of the largest construction projects ever undertaken in Scotland. Delivery of the project supported a £1bn-plus economic boost to the Scottish economy during construction, supporting around 4,000 Scottish jobs, according to independent analysis published by PwC.
Patrick Pouyanné, Chairman and CEO of TotalEnergies, said:
"I am very pleased to see Seagreen generating at full power, making it TotalEnergies' biggest offshore wind farm worldwide. This 1GW project is a new step in delivering our strategy of building a world-class, cost-competitive portfolio of renewable energy to deliver clean, reliable and affordable power to our customers. It will positively contribute to achieving our Integrated Power 12% profitability target and our objective of reaching more than 100 TWh of power generation by 2030.
"Our participation in the project alongside SSE has enabled us to strengthen our offshore wind expertise which will be extremely useful for our future projects in the UK, US and Germany. It's also very good news for Scotland, as Seagreen makes a significant contribution to the country's net zero ambition for 2045."
Seagreen was first awarded exclusive development rights for the Firth of Forth Zone site by Crown Estate Scotland in 2010. The project was consented for development by Scottish Government Ministers in 2014 ahead of construction beginning in June 2020.
The first Vestas 10 MW turbine was installed in December 2021, with first power achieved in August 2022 ahead of the installation of the final turbine at the site earlier this summer. Now completed, power from Seagreen's 114 turbines is being exported from the North Sea site via three subsea cables to landfall at Carnoustie, and then through 19km of underground cabling to a new onshore substation at Tealing near Dundee, before being distributed to homes and businesses via the GB power grid.

SSE Renewables led the development and construction of the Seagreen project, supported by TotalEnergies. Going forward, SSE Renewables will operate the offshore wind farm with support from TotalEnergies.
Stephen Wheeler, Managing Director, SSE Renewables said:
"This is a landmark moment for offshore wind in Scotland and for the global offshore wind industry. The Seagreen project has pushed new boundaries through its use of innovative suction caisson technology which has allowed our project team to set new records through the installation of the world's deepest fixed-bottom foundations at the site. This makes Seagreen a pioneer for future developments in deeper waters so they can be built faster and more efficiently, accelerating the clean energy transition.
"As construction lead, all of us at SSE Renewables are proud of the contribution the entire team has made in the delivery of Seagreen, from partners TotalEnergies to our main contractors at Vestas, Seaway 7, Nexans and Petrofac. We're particularly pleased the delivery of Seagreen has contributed over £1 billion to the Scottish economy, supporting thousands of jobs. We're now looking forward to the next 25-plus years as SSE Renewables takes on operational responsibilities for Seagreen, ensuring it plays a key role in the energy transition and the delivery of secure, homegrown clean and green energy to Scottish and UK customers."